By Woodrow L. Higdon - Investigative Photo Journalism
---
ARTICLE LINK LIST SAN DIEGO DISTRICT ATTORNEY
District Attorney Bonnie Dumanis
---
APRIL 2016

CRIMES BY ATTORNEYS
COMMITTED FOR OTHER ATTORNEYS
COVERED UP BY STILL MORE ATTORNEYS
INCLUDING THE STATE BAR & PORAC
---
A four year history of conspiracy, obstruction of justice, election fraud, and cover up of eight years of police and DA evidence tampering by DA Dumanis and multiple Deputy District Attorneys to avoid prison, and tens of millions of dollars in civil liability. All criminal complaints involving corrupt district attorneys, police, firefighters, their unions, and their political and financial supporters, are blocked and buried, with mutual protection from the "Blue Wall" of law enforcement agencies.
---
The conspiracy continued into 2010 and beyond. Innocent citizens were regularly being prosecuted for crime they did not commit to protect the DA's cover up conspiracy. Witnesses to the police corruption were suppressed. DDA's involved in felony criminal conduct were allowed to quietly resign, and protected from criminal prosecution, as long as they kept their mouths shut.
---
One of DA Dumanis's primary motives for suppressing criminal complaints and investigations of police and DA evidence tampering was to protect herself, and her political career, from criminal, and civil liability, for evidence tampering, in the Cynthia Sommer Murder case.
---
DA Dumanis motives for criminal corruption, and cover up of evidence tampering, election fraud, civil rights violations, and insurance fraud continued to expand in March of 2011, with her announcement that she would run for Mayor of San Diego In 2012.
---
STATE FINANCED CRIMINAL INSURANCE FRAUD & BRIBERY OF DA'S
DA's have agreed to protect insurance companies, that criminally defraud citizens, from investigation and prosecution, in exchange for money. Five (5) Million a year just to the San Diego DA's. The money comes in the form of "Special Funding Grants" from the California Department Of Insurance. This is why so many insurance companies are quick to criminally defraud California policy holders of insurance benefits. Insurance Companies have no criminal exposure, and the civil litigation system is rigged against the citizen.
---
The most effective "Public Corruption Cover Up Tool" available to public agencies, and their public union members, is the civil litigation system. The public corruption cover up through civil litigation abuse, is at its worst when law enforcement personnel, and their unions interest, are involved in the criminal public corruption.
---
GTI's continuing investigation of wide spread, long term, Oceanside Police, and San Diego District Attorney public corruption has disclosed court documents, that verify another Police and DA conspiracy, to cover up the criminal conduct, of more Oceanside Police Officers. Another Police-DA cover up conspiracy, that only fell apart, when the non-police girlfriend embezzler, eventually broke her silence, and turned State's evidence to avoid jail time. A plea bargain naming Oceanside Police Sgt. Walter McWilson as her co-conspirator. A Police Officer, that the Oceanside Police Investigators, knew was involved in the crimes, in the early stages of the investigation. A police Sergeant that confessed to lying to investigators about his involvement, but was protected from arrest, in the hope the girlfriend embezzler would remain silent. All in written sworn testimony, on McWilson's 2009 Arrest Warrant, with the signatures of Det. Mike Brown, and DDA Anna Winn. An arrest warrant that appears to have been hastily written, as the cover up fell apart, and the protected Police Sgt. McWilson, got named.
DETECTIVE MIKE BROWN - DDA ANNA WINN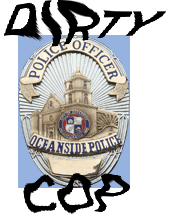 ---
The discovery of a confidential e-mail in court filed documents, related to the San Diego County District Attorney's investigation of DDA Ernest Marugg in 2010, has provided hard evidence of a long term pattern of criminal conspiracy, to obstruct justice, in the San Diego County DA's office.
---
THE SAN DIEGO UNION TRIBUNE PROTECTED DISTRICT ATTORNEY PUBLIC CORRUPTION INVOLVING THE PROSECUTION OF INNOCENT CITIZENS FOR YEARS, WITH HELP FROM THE CALIFORNIA STATE BAR, AND MANY OTHER LEGAL ORGANIZATIONS INCLUDING THE CAL WESTERN LAW INNOCENCE PROJECT - PART IV
CRIMES BY ATTORNEYS - COMITTED FOR OTHER ATTORNEYS - COVERED UP BY MORE ATTORNEYS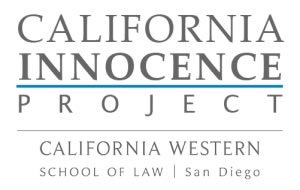 ---
DDA Mosler, head of the DA's Special Operations Division (Internal Affairs), Obstructed Justice and suppressed complaints, with hard evidence on Police and DA Evidence Tampering, Obstruction of Justice, insurance fraud, and election fraud, involving DDA Laura Gunn, DDA Daniel Rodriguez, DDA David Latuca, the Oceanside Police & Fire Departments, members of the Oceanside City Council, and others.
---
---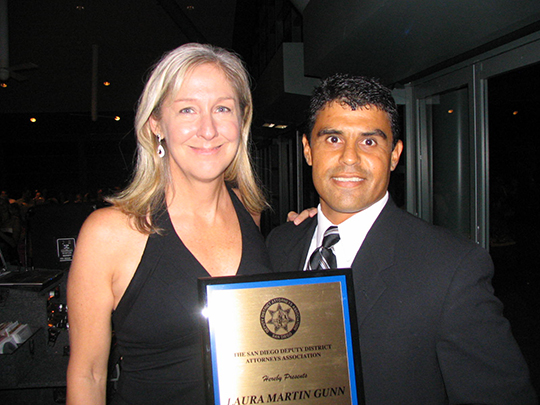 DDA OBSTRUCTION OF JUSICE, & SUPPRESSION OF WITNESS IN OCEANSIDE POLICE OFFICER DAMON SMITH EVIDENCE TAMPERING INVESTIGATION
DDA Gunn was appointed by DA Dumanis and DDA Mosler to head up the Oceanside Officer Damon Smith Evidence Tampering Investigation. Gunn actively obstructing the investigation, and suppressed a witness, to avoid identifying other Oceanside Police Officers and District Attorneys that were involved. Officer Damon Smith had been tampering with audio tape evidence, lying in court, and falsifying police reports for at least 8 years, and according to Officer Smith, he was not the only one.
The investigation and witness suppression was done to protect at least eight years of corrupted criminal prosecutions by dirty DA's and Dirty Cop's. The witness suppression was also done to protect herself and DA Dumanis from $20,000,000.00 in civil and criminal liability. Any real criminal investigation of Officer Smith would have lead right back to the evidence tampering of District Attorney Dumanis, other DDA's, and other Oceanside Police Officers like Officer Jon Domonique. The cover up was also carried out to protect an on going conspiracy to tamper with an election for profit, by the Oceanside Police, Firemen, City Council Members, and their public unions.
---
---
OBSTRUCTION OF JUSTICE, EVIDENCE TAMPERING, AND FALSE PROSECUTION OF INNOCENT CITIZENS
DDA Rodriguez was caught tampering with audio tape evidence in multiple criminal prosecution. DDA Rodriquez was then quietly terminated to shut down criminal complaints and investigations that would lead to other DA & Police Evidence Tampering cover ups.
DA Dumanis knew that any investigation of DDA Rodriguez would lead back to the Evidence Tampering of Officer Damon Smith, Officer Jon Domonique, and other police officers and district attorneys like DDA Laura Gunn, DDA Damon Mosler, and her own evidence tampering in the Cynthia Sommer Murder Prosecution.
---
Interviews with Deputy District Attorney David Latuca, head of the San Diego County Insurance Fraud Investigation Division has confirmed the criminal insurance fraud scheme for pay, operated by the DA's office. Documents from the DA's office also confirm the criminal insurance fraud scheme.
DDA Latuca stated that his fraud division was not allowed to take criminal complaints from citizens against insurance companies due to restrictions in special funding grants received from the State Of California.
The DA's Insurance Fraud Investigation Division primarily investigates citizens on behalf of Insurance Companies.
---