THE STATE OF CALIFORNIA IS FINANCING THE CRIMINAL INSURANCE FRAUD OF IT CITIZENS, WITH TAX DOLLAR CASH BRIBES, TO DISTRICT ATTORNEYS STATE WIDE
PRIVATE INSURANCE COMPANIES ARE BUYING CUSTOM PROSECUTIONS OF CITIZENS, FROM DISTRICT ATTORNEYS, WHILE DA'S PROTECT THE SAME INSURANCE COMPANIES FROM CITIZENS CRIMINAL INSURANCE FRAUD COMPLAINTS
ALL EVIDENCE INDICATES CALIFORNIA IS NOT THE ONLY STATE INVOLVED IN THIS PUBLIC CORRUPTION
---
SACRAMENTO, CA.

California Financing Criminal Insurance Fraud Of Citizens For Public Unions Profit, AND CAMPAIGN FINANCE FUNDING.
Attorney General Jerry Brown, and the office of the AG, are involved in obstructing criminal investigations, and covering up state financed criminal insurance fraud of citizens. The protection and cover up also extends to Police and District Attorney evidence tampering and election fraud in San Diego, and Oceanside, CA. All of the money is connected to the public unions, in one way or another, and much of that money is returned to AG Jerry Brown, AG Kamala Harris, and others as kick backs in the form of campaign finance donations.
The police and DA corruption in San Diego County, Ca., makes Bell, Ca. look like a convent, and the dirty cops and dirty DA's get full protection from the Attorney General and his office, because they wear badges and they are public unions with deep money pockets for democrat Attorney Generals.
---
SAN DIEGO, CA
It's hard to tell one crook from another, in the DA's office. San Diego County District Attorney Bonnie Dumanis secretly agreed to protect insurance companies, that criminally defraud citizens of insurance benefits, from criminal investigations and prosecutions. This criminal protection is provided in exchange for "Special Funding Grant Money", from the California Department of Insurance, Insurance Companies, and other private businesses. The five million dollars a year is tax dollars, for the DA's insurance fraud investigation units. A unit that is geared almost exclusively to investigate and prosecute citizens, based on Insurance Company complaints, while DA's protect Insurance Companies from prosecution for the same crimes.
In interviews Deputy District Attorney David Latuca, head of the San Diego County Insurance Fraud Investigation Division has confirmed the criminal insurance fraud scheme for pay operated by the DA's office. Documents from the DA's office also confirm the criminal insurance fraud scheme.
DDA Latuca stated that his fraud division was not allowed to take criminal complaints from citizens against insurance companies due to restrictions in DA special funding grants.
The DA's Insurance Fraud Investigation Division primarily investigates citizens, on behalf of Insurance Companies, and other private businesses.
---
SACRAMENTO TO WASHINGTON D.C.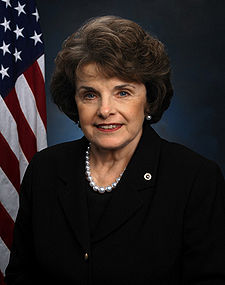 In June of 2008, United States Senators Feinstein and Boxer were provided with formal complaints and extensive documentation on California financing the criminal insurance fraud of it's citizens. The Senators were given public record documentation on the involvement of the California Attorney General's Office, the California Department of Insurance under Steven Poizner, the San Diego County District Attorney's Office, the Oceanside Police, and other.
---
OCEANSIDE, CA.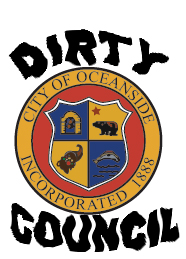 Oceanside Council Mayor Wood, Deputy Mayor Esther Sanchez, and the City Council have obstructed all complaints on the DA's insurance fraud scheme, and other police and DA corruption. The Corruption includes police evidence tampering, election fraud, and police and fire vote bribery. Sanchez, like Mayor Wood, provided this protection to protect cash flow of campaign finance money from the police and fire department unions.
Sanchez was also protecting her pending appointment to the California Coastal Commission. A criminal investigation of the Police Department, and her history of cover up, would have destroyed all chances of that state appointment, and her political career.
Sanchez was a sworn council member and Public Defender attorney for 7 out of the 8 years that Officer Damon Smith, Officer Jon Domonique, and other officers of the OPD were tampering with evidence in hundreds of criminal investigations. Most of the corrupted prosecution had been assigned to Sanchez's Public Defender Office in the North county. Sanchez later stated she had no obligations to investigate the complaints, or corruption, as none of the cases were what she defined as her "personal cases".
Council Member Sanchez abandoned her oath of office, her attorney's oath as an officer of the court, and the legal rights of hundreds of criminal defendants, not to mention the citizens of Oceanside. This was done to protect massive campaign finance money from the corrupt Police and Fire Departments, that made her political career possible.
Sanchez also told this reporter that she had no problem with the criminal insurance fraud of citizens by police and DA's, if the city administration could save some money.
---
OCEANSIDE, CA.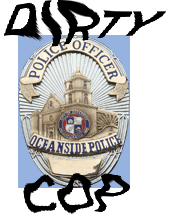 Oceanside Police Chief Frank McCoy is the senior dirty cop in Oceanside, and he has actively obstructed all criminal complaints and misconduct complaints involving police officers, district attorneys, corrupt council members, and all their political and financial supports involved in the Insurance Fraud & Election Fraud scheme.
Chief McCoy thinks nothing of lying in public council sessions about criminal insurance fraud investigations that never took place, and ignores the criminal assaults, false arrest, and intimidation of citizens that complain about police, or council corruption.
Misconduct complaints against Chief McCoy are buried by Oceanside Police Internal Affairs. The Oceanside Police Internal Affairs is a round black hole called a trash can.
---
OCEANSIDE, CA.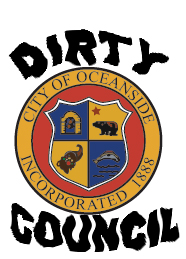 OCEANSIDE'S CORRUPT DIRTY CITY COUNCIL
Oceanside Council Members Ester Sanchez, Mayor Jim Wood, Jerry Kern, Jack Feller, Chuck Lowry,and even former council member Chavez have consistently obstruct all citizen complaints on the state financing of criminal insurance fraud.
Some members for money, and some for fear. Public records request show that not one complaints, from any citizens, to the Oceanside council regarding public corruption have ever been investigated. Not one document.
---