By Woodrow L. Higdon - woody@gtinewsphoto.com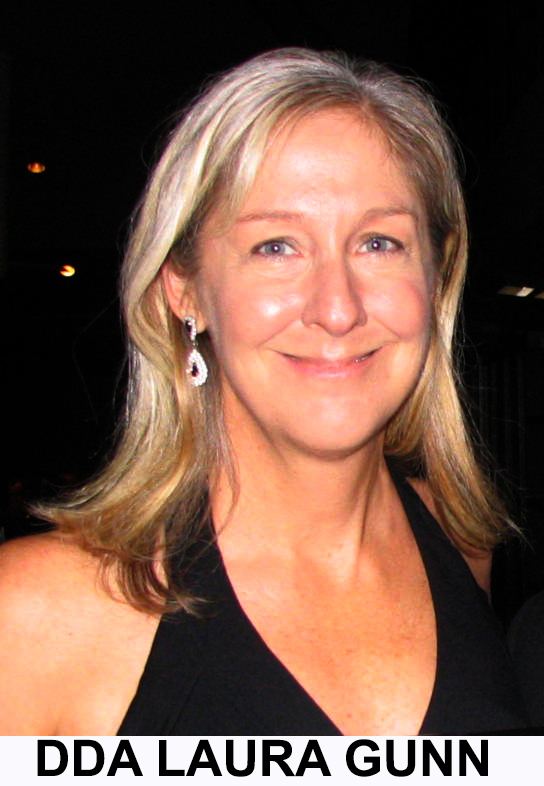 DEPUTY DISTRICT ATTORNEY LAURA GUNN SUPPRESSED A WITNESS, AND OBSTRUCTED JUSTICE IN THE INVESTIGATION OF OCEANSIDE POLICE OFFICER DAMON SMITH'S EIGHT YEARS OF EVIDENCE TAMPERING IN DA CASES, AND THE SUPERIOR COURTS
ALL TO PROTECT A CORRUPTED DA CASE HISTORY, HER PUBLIC IMAGE, HERSELF, & DA DUMANIS, FROM CRIMINAL CHARGES, AND $20 MILLION DOLLARS IN CIVIL LIABILITY
THE CONSPIRACY MOTIVES
In April 2009 the Oceanside Officer Damon Smith evidence tampering scandal hit the San Diego County District Attorneys door step like a time bomb. Officer Smith had been secretly recording criminal investigations, lying under oath, and tampering with evidence, full time for eight years, as an on duty Oceanside Police Officer. District Attorney Dumanis & the Oceanside Police Department, like any professional investigators immediately recognized the potential dangers to other on going criminal operations in both departments. Criminal cover ups that were associated with eight years of corrupted criminal prosecutions that were exposed in court, under oath, and the local news media already had the basic story. Secret recordings of criminal investigations by paranoid police officers, has been around for decades, but none of them were exposed in court, under oath, and directly connected to 8 years of cases, and other Oceanside police officers and deputy district attorneys.
A criminal conspiracy to obstruct justice, by the DA's office, to manipulate the criminal and civil justice systems related to the new trial order in the Cynthia Sommer Murder conviction, had been under way for twelve months, and any investigations or prosecution of Officer Smith could expose that conspiracy, as well as other ongoing evidence tampering in other criminal prosecutions, and it would provide smoking gun evidence to Sommer's attorneys that could be used against DDA Gunn, DA Dumanis, and the DA's office.
The Special Operations Division (Internal Affairs) of the District Attorneys Officer was immediately brought in to coordinate the investigation suppression, with other ongoing evidence tampering cover ups, even thought the Smith case was a major conflict of interest. District Attorneys with a vested interest in protecting, eight years of corrupted prosecutions from expensive re-investigation and new prosecutions, extensive liability in the Sommer Murder case evidence fabrication that could impact future Union contracts, and the Dumanis's future run for Mayor.
These motives and others started a high level criminal conspiracy cover up, inside the special operations division. The first step was to avoid a major criminal investigation of the Oceanside Police Department, that would lead to the exposure of additional police officers and DDA's involved in evidence tampering. More police officers would lead to more corrupted cases, and that would be a public image nightmare. The District Attorney had to maintain control over, and limit the Officer Smith investigation, in order to minimize the number of corrupted cases, reported to opposing defense councils, and keep the identity of other police officers secret, to protect the ongoing Summer Murder case conspiracy.
Other Cases As Reported By GTI News Photo:
The most impacted criminal defense organization would be the Public Defenders Office, and yet no investigation was ever started in that department. Eighty to ninety percent of criminal defense is handled by the Public Defenders Office. More than six months after the discovery of the evidence tampering, according to supervising attorney Bill Trainer, no one in the Public Defenders office was even aware of the of Officer Damon Smith or his evidence tampering tapes. If this was by plan of the DA's office, or just shear negligence, we will probably never know, as both public agencies are actively obstructing all GTI News investigations.
THE DA & POLICE CONSPIRACY TO OBSTRUCT JUSTICE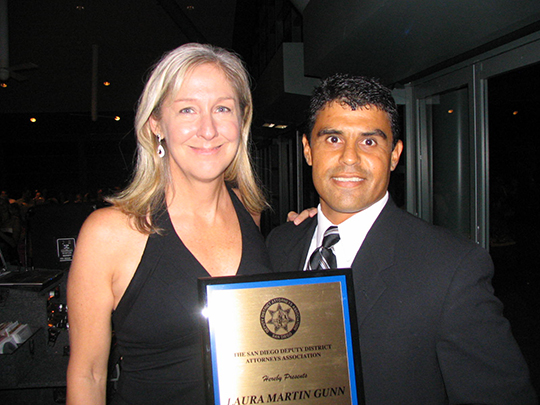 The District Attorneys Special Operations Division, quickly assigned the Officer Smith investigation to DDA Laura Gunn, the former lead prosecutor in the corrupted Sommer Murder prosecution. Gunn was touted as one of the rising stars of the DA's office. Gunn was named the Prosecutor Of The Year in 2007 as a direct result of her prosecution of Cynthia Sommer for a murder that never occurred.
In those first weeks of the Smith investigation, DA Bonnie Dumanis, and Oceanside Chief of Police Frank McCoy, were already making public statements that Officer Smith had not violated any laws, and would not be prosecuted. Multiple public statements were made that "recording conversations" was not illegal, while omitting the information that Officer Smith was on duty, in uniform, investigating crimes. The DA's investigation of Smith had just started with the assignment of DDA Gunn, the criminal cover up was already underway, and Gunn's suppression of the investigation was also underway. Even though departmental policies and procedures, for both the DA and the Police prohibit any public statements prior to the completion of any investigation. It would be many months before GTI's investigation disclosed why DDA Gunn was assigned to head up the Smith evidence tampering investigation, or more accurately the investigation obstruction, and suppression, and why DA Dumanis and Chief McCoy were frantic to protect Officer Smith from arrest. All citizen complaints were suppressed.
---
HIDDEN MOTIVES

As Reported By GTI News Photo:

Starting in April of 2008 DDA Gunn, DA Dumanis, and the DA's office were conspiring to manipulate the criminal court system, to stop the filing of a twenty million dollar civil law suit, for evidence tampering in the Cynthia Sommer murder case. A civil case that could also bring criminal charges against Dumanis and Gunn. DDA Gunn was the lead prosecutor in the Sommer murder case. Dumanis and Gunn knew in April of 2008, that the arsenic poisoning evidence used to put Sommer in prison, never existed. At the same time they opposed the full dismissal of the case, to protect themselves and the DA's office from subpoenas that could provide supporting evidence of DA civil and criminal liability.

As Reported By GTI News Photo:

During the same time period, Oceanside Chief McCoy was secretly involved in MULTIPLE conspiracies to obstruct justice and cover up more evidence tampering in other criminal investigations, of an Oceanside Police Sgt Larson for DUI, Sgt. McWilson for Embezzlement, and Police and Firefighter Election Fraud. Any criminal investigation of the Smith evidence tampering could expose the Sgt. Larson conspiracy, the Officer Domonique evidence tampering cover up, the Sgt. McWilson Embezzlement Conspiracy, and jeopardize the on going Oceanside police and firefighter election fraud conspiracy.

As Reported By GTI News Photo:
---
In the final months of 2009, multiple contacts by this reporter, with the office of DDA Laura Gunn, regarding the Officer Smith investigation, were always meet with the same statement. "No comment as an investigation is still in progress". At the same time Chief McCoy of the Oceanside Police, and DA Dumanis were continuing to make regular public statements about the innocence of Officer Smith, to support the suppression of any real criminal investigation or prosecution.
On October 6, 2009, with a complete lack of evidence of any real investigation of Officer Smith, by the DA's office, the Oceanside Police Department, or the public defenders office, this reporter started back at the beginning, to verify the lack of investigation. Criminal Defense Attorney Andrew Limberg was the attorney that discovered Officer Smith's eight years of secret recording of criminal investigations. Initial contact disclosed that Mr. Limberg had never been contacted by any investigators from the District Attorneys Office, the Oceanside Police, or any other agency, investigating the evidence tapes.
Mr. Limberg stated that when Officer Damon Smith finished testifying in court, that day in April 2009, Smith approached Mr. Limberg. Officer Smith was very concerned about how much trouble he was in with all those secret evidence tapes. Officer Smith stated he could not understand all the concern, and stated that his eight year practice of recording, and hiding criminal investigation audio tapes, was "Common Knowledge" among the police officers he worked with at the Oceanside Police Department.
Officer Smith told a court official that his secret audio tape evidence tampering was "common knowledge" among the Oceanside Police officers he worked with for the past eight years!
Attorney Andrew Limberg was ground zero for the Officer Damon Smith investigation. Any competent police or DA investigator would know to start an investigation with the people that were in the court room, when Officer Damon Smith testified under oath. Testimony that tied Officer Smith to tampering with evidence, obstructing justice, falsifying police reports, and falsifying testimony in criminal cases for eight years. Andrew Limberg stated that no investigator, had ever contacted him, regarding Officer Smith.
There had never been any real investigation by the District Attorney's Office, the Oceanside Police, or the Public Defenders Office, of the Damon Smith evidence tampering. The DA's internal investigation was geared to protect Officer Smith from arrest, and keep his mouth shut, about the identity of other officers.
The fake investigation was to remove the case from the public eye, minimize the number of exposed cases, and notifications to defense attorneys, in the hope that everything would be forgotten. The Oceanside Police cover up of the Smith evidence tampering was also to protect the on going criminal election fraud to seize voting control over the Oceanside public treasury, and other police evidence tampering involving Chief McCoy, and Officer Domonique.
THE GTI NEWS STING SETUP
This reporter decided to test the claims of DA and Police investigations. On October the 9th, this reporter contacted DDA Laura Gunn, and gave her the Limberg witness statement, his name, address, and phone number. The information was also given to Internal Affairs Supervisor Sgt. Ron Hardy of the Oceanside Police Department. Three weeks later District Attorney Dumanis released a press statement, that approximately 35 of the Officer Damon Smith audio tapes, were being released to the Public Defenders Office, that Officer Smith had broken no laws, and Smith was not going to be prosecuted for anything.
This reporter then re-contacted Attorney Andrew Limberg. Lynberg stated that no one had contacted him from the District Attorneys Officer, or The Oceanside Police Department since we last talked on October 9th. Deputy District Attorney Laura Gunn and the Oceanside Police Internal Affairs, had obstructed justice, covered up police evidence tampering, and suppressed evidence of a credible witness, to the involvement of other Oceanside Police Officers, in eight years of evidence tampering.
On November 4, 2009, as a citizen, this reporter meet with Deputy District Attorney Damon Mosler, head of special operations, and a DA investigator Snyder, and filed multiple felony criminal complaints, with documentation against DDA Laura Gunn for evidence tampering and obstruction of justice. DDA Gunn worked under DDA Mosler in special operations. Complaints were also filed against various supporters of the Oceanside Police & Fire Department, and their unions for election fraud, and falsification of campaign finance records and campaign literature. Additional complaints were filed against Deputy District Attorney David Latuca for obstruction of justice in the DA's insurance fraud scheme against citizens. The insurance fraud cover up was to protect the DA's five million dollars a year in Special Funding Grant money that supported and expanded union jobs, by taking away citizens protections for criminal insurance fraud.
The complaint filing process was audio recorded to verify submission, and protect this reporter from legal retaliation.

As Reported By GTI News Photo:
DA SPECIAL OPERATIONS COVER UP CONTINUES
In April 2010 when this reporter had heard nothing from DA investigators or Oceanside Police, this reporter again contacted DDA Damon Mosler, and was advised that DDA Laura Gunn no longer worked for the District Attorneys office, and there would be no criminal investigation. The termination of DDA Laura Gunn, as usual, was now declared to be a personnel problem, and state privacy laws were cited to block all questions, and information. DDA Damon Mosler declined to discuss any of the felony criminal complaints, or documentation this reporter filed with DDA Mosler on October 4th, 2009. Mosler refused comment on the DDA Rodriguez and Officer Domonique evidence tampering, and state that Paul Levikow in DA Dumanis's office should be contacted.
Paul Levikow, spokesman for the District Attorneys Office, was then contacted regarding the evidence tampering of DDA Daniel Rodriguez and Officer Jon Domonique. Like DDA Mosler, Levikow advised that DDA Rodriguez also no longer worked for the District Attorneys Office. DDA Rodriguez was also declared a personnel issue to shut down criminal complaints and investigations directly linked to the evidence tampering by multiple Oceanside Police Officers, all of which were protected from arrest and prosecution.
---
* It would be more than a year later before the DA's written Blue Print for Conspiracy To Obstruct Justice through quiet resignations, would surface in GTI's investigation of the DDA Marugg resignation.

As Reported By GTI News Photo:
---
In June 2010, Paul Levikow told Sarah Gordon of the North County Times that it is legal for a police officer to use a concealed recorder, however, if the tape becomes part of a criminal case, it must be turned over to prosecutors, who then must provide it to defense attorneys. The law obviously has a double standard when DA Dumanis and the DA's office is avoiding civil and criminal charges, new investigations and re-prosecution of hundreds, if not thousands of corrupted cases, and the Oceanside police have an ongoing election fraud for profit conspiracy, to protect.
ATTORNEY GENERAL CORRUPTION COVER UP FOR UNION MONEY
Complaints with full documentation were also filed with Gary Schons of the Attorney General Office in San Diego. All complaints and investigations were suppressed by the Attorney Generals Office to protect the DA's office, at least eight years of corrupted prosecutions, and DA's and Cops involved in extensive evidence tampering, and election fraud. The AG Office's obstruction of justice was also to protect the ongoing flow of campaign finance money from the same unions that were financing the police & firefighter election fraud, into the ongoing election campaigns of Attorney Generals Brown and Kamala Harris.
Supporting Stories: