MAY 25, 2013
ALL REQUEST FOR INVERVIEWS DECLINED, & REPORTERS ORDERED TO "KEEP QUIET"

SAN DIEGO UNION TRIBUNE (UT) OBSTRUCTED REPORTING ON FIRST RESPONDER PUBLIC CORRUPTION FOR 5 YEARS, AND WHEN CAUGHT, THEY ORDERED THEIR REPORTERS TO "TAKE THE 5TH" AND REFUSE INTERVIEWS - PART I
On May 8, 2013 the San Diego Union Tribune FIVE YEAR public corruption cover up, and conspiracy involving UT reporters, editors, vice presidents, the UT in-house attorney, and multiple owners, exploded into clarity, with GTI News's THIRD request for interviews with UT reporters. Many of which were directly involved in the first responder election fraud conspiracy, and wide spread Police & DA evidence tampering, & its cover up. While other UT reporters actively avoided investigations, and reporting, on FIRST RESPONDER PUBLIC UNIONS public corruption.
Hundreds of thousands of Oceanside, CA. citizens were criminally defrauded of million of tax dollars, by their first responder unions, while UT reporters conspired with the unions, and looked the other way. Citizens were arrested, prosecuted, and jailed for crimes they did not commit, while police and district attorneys hid the evidence that would clear them, and the UT reporters looked the other way. The UT reporters and staff made it clear to this reporter on many occasions, they did not want to hear about, or investigate First Responder and District Attorney Public Unions corruption, and the Union Tribune was NOT THE ONLY NEWS MEDIA GROUP DIRECTLY INVOLVED IN THE PUBLIC CORRUPTION COVER UP.
THE MOTIVES
A Union Tribune two stage, 5 year, 122 million dollar fraud, FINANCIALLY linked to the cover up of the $100,000.00 North County Times election fraud conspiracy, with Oceanside First Responder Unions. A First Responder Union election fraud conspiracy, that defrauded 172,000 citizens, of more than $5 Million dollars, to increase their own pay and benefits. A two directional North County Times $100,000.00 election fraud conspiracy, and its cover up, FINANCIALLY linked to protecting the $12 million dollar sale of the North County Times, to the new consertative Union Tribune owner Douglas Manchester. The Associated Press - North County Times election fraud conspiracy & cover up, to protect the $12 Million dollar sale of the North County Times, to the Union Tribune. An Associated Press desperate for cash, due to an ongoing $1 Billion dollar bankruptcy, and its restructuring negotiations, which could be tanked, if the North County Times public corruption conspiracy went public. Everything hinged on covering up News Media Groups, criminally conspiring with First Responder Unions, in Election Fraud, and other crimes. IT'S THE MONEY and the DIRTY UNION MONEY TRAILS LEAD EVERYWHERE !!!!
THE UT COVER UP (PART I)
At 9:04 AM, May 8, 2013 this reporter was contacted by UT Watchdog Reporter Aaron Burgin, in response to GTI News's THIRD request in two years, for interviews regarding the four year involvement of Burgin, and other UT reporters in covering up first responder public corruption in Oceanside, and San Diego County, CA. A reporter whose beat was the Oceanside City Council, and ground zero for the First Responder Election Fraud Conspiracy, and its cover up. A reporter who was recently promoted to the UT WATCHDOG news division. A division "supposedly" specializing in protecting the public, from Public Corruption.
The phone call came after two years of UT Staff, and UT Attorney requests to GTI News, to delay reporting on the UT public corruption cover up to allow the UT time to investigate. Reporter Burgin stated that he had been ordered by superiors, and UT Attorney Christopher Scott Lipp, to NOT provide any interviews regarding the five years of UT public corruption cover up in San Diego County. Burgin also stated that he had been instructed to tell this reporter that all future request for information and interviews, with UT reporters, should be directed to UT Attorney Christopher Lipp, and Burgin hung up.
These orders were confirmed the following day, in a phone contact with Burgin's boss, and "Watchdog" Editor Ricky Young. Young would not respond to direct request for interviews, and repeated several times that this reporter should contact UT Attorney Lipp. Young was asked about Burgin's, statements regarding orders from superiors and Attorney Lipp, to keep quiet. Young made it clear he did not believe the Burgin conversation had occurred, but continued to tell this reporter to talk with UT Attorney Lipp.
The statements of Burgin and Young were surprising, as UT Attorney Lipp had spent the previous seven months delaying GTI reporting with multiple assurances that meetings would be arranged with UT staff, to discuss the public corruption cover up. None of which ever materialized. Mr. Lipp had requested on several occasions, that GTI News NOT make the UT reporters, the UT purchase of the corrupt Associated Press North County Times Newspaper, and the potential fraud of current owner Douglas Manchester, by his own reporters, part of the public corruption story. It was not the first time UT staff had made promises to fully investigate, and publish, as a tactic to stop GTI News reporting on the Union Tribune public union corruption cover up.
Five years of First responder and District Attorney public corruption, and organized crime, in San Diego County, CA. so extensive it qualifies as Domestic terrorism. Public Corruption which involved reporters and editors, currently working for the UT, conspiring with public unions in election fraud, massive police and DA evidence tampering, and its cover up. An ongoing cover up, while more than $100,000.00 flowed from the first responder unions, into the reporters company bank accounts.
A first responder election fraud conspiracy verified by the California State Fair Political Practices Commission, and cash payments verified in public campaign finance records. A UT five year public corruption cover up, that would be directly connected to a potential $122 million dollar fraud, of current UT owner Douglas Manchester, and the one Billion Dollar Associated Press Bankruptcy protection.
In May of 2013, the UT coordinated plan to delay GTI News reporting had been underway for two years. The plan involved continuing promises of full investigations, and reporting, on first responder election fraud, wide spread police and DA evidence tampering, and state financed insurance fraud of millions of California citizens, if GTI News would hold publication on the UT involvement, and just be patient, while the UT investigated.
As Previously Reported By GTI News:
GTI NEWS'S FIRST REQUEST FOR UT INTERVIEWS
The UT was described as a Liberal Newspaper for decades, under the ownership of the Copley family. In 2009 the financially struggling newspaper was sold to Platinum Equity for a reported $35 Million. GTI News public corruption notifications, and public record documentation, to the UT reporters started in 2008. Three years later there was no evidence of UT investigations or reporting, on any First Responder or District Attorney Union associated public corruption.
In June of 2011, GTI News issued its FIRST request for interviews of UT reporters. The UT clearly did not want its reporters names, and the name of the Union Tribune linked to public corruption cover up. All observed evidence indicates the UT believed, if GTI News reporting could be delayed long enough, the high profile first responder public corruption cover up would fade from the news cycles, and GTI News would loose interest.
The UT assumption, or hope in June 2011, that the public corruption would fade away, was a major mistake. The UT had no idea that the Oceanside First Responder Unions, and the San Diego District Attorney's Office Union public corruption conspiracies, were just getting started. Even worse, the yet to be discovered expanding Police and DA corruption, in evidence tampering, and obstruction of justice, would be directly connected in type and time, to the same Oceanside Police Department, and more Deputy District Attorneys. The First Responder unions election fraud dirty money trails, would be tracked directly to the election campaigns of high level Democratic officials, while those officials provided full protection to Oceanside First Responder Unions. Law Enforcement Officials, that included multiple Democratic California Attorney Generals, their staff, the office of the Democratic California Governor Jerry Brown, and most startling, OTHER NEWS ORGANIZATIONS.
As Previously Reported By GTI News:
EDITOR & VP JEFF LIGHT 2011 INTERVIEW REQUEST
The GTI News June 15, 2011, FIRST e-mail request for interviews with UT reporters, Aaron Burgin, Michael Burge, and others, also included a request to UT Editor & Vice President Jeff Light. GTI's two year undercover investigation had disclosed extensive criminal involvement of major news organizations in the union corruption, like the North County Times, and the Associated Press, while UT & local television news reporters avoided reporting on the first responder unions.
As Previously Reported By GTI News:
In response to GTI's first interview request, Editor Jeff Light contacted this reporter. Light stated he had no knowledge of the Oceanside first responder election fraud, and evidence tampering, or the extensive public record documentation, which GTI News had provided to UT reporters over the previous three years. The hour plus phone conversation with Editor Light included, a list of UT reporter that had been given extensive information and documentation on the public corruption, and information on the direct criminal involvement of the North County Times. Light requested GTI News supply him with copies of documents, and published stories on the corruption. Light was given GTI's web publication address, and a series of e-mails were sent, with info and links to documentation.
INITIAL LIST OF UT REPORTER INVOLVED IN COVER UP

Michael Burge, Aaron Burgin, Nathan Schurn, Don Sevrens, Adrian Vore, Tom Mallory, Bob Hawkins, Zachary Woodruff, & Greg Moran.
Additional phone discussions, and e-mail documentation, sent to Light produced an immediate request, for a sit down meeting with senior staff, as soon as possible. The initial meeting was held in the UT office of Editor Jeff Light on July 6, at 10:00AM, and lasted almost two hours. Editor Ricky Young, and reporter Aaron Burgin were present.
Editor Light was reminded that Burgin was one of the primary reporters assigned to cover the Oceanside City Council Meetings, and was directly involved in the suppression of investigations, and reporting. Two hours was spent on detailed discussions on the Oceanside first responder election fraud conspiracy, the extensive police and DA evidence tampering, the DA Dumanis - Sommer Murder Case prosecution corruption, the North County Times conspiring in the first responders election fraud, and the DA Office's Insurance Fraud Scheme.
Editor Light was very interested in the Republican DA Dumanis evidence tampering involvement in the Sommer Murder case, and the involvement of the well know CONSERVATIVE North County Times (NCT) newspaper in the first responder election fraud conspiracy. Light stated he would really like the "opportunity to go after the North County Times", which was the UT's only major competitor in the San Diego daily newspaper market.
Light stated that the extensive range of public corruption, and the volume of supporting documentation was too large to cover, and absorb, in one meeting. Light instructed Young and Burgin to begin research on the DA Dumanis and NCT stories, and suggested a second meeting the following week. A second meeting was scheduled for July 12, 10:00am, which lasted an additional 2 hours. At the end of the meeting, Light assured this reporter, that the UT would have reporter Aaron Burgin, his supervisor Editor Ricky Young, and others investigate everything, and start reporting in the near future.
In June 2011:

The UT reporters and staff did not know that the UT current owner, Platinum Equity, would be selling the liberal newspaper within six months.

The UT reporters and staff did not know the new Owner would be WELL know Conservative, Anti-Union Hotel Magnate Douglas Manchester.

The UT reporters and staff did not know that future owner Manchester, would also purchase the North County Times within 12 months.
THE UT POLITICAL REPORTING BIAS
The first, of just two UT articles on the public corruption, published over a two year period, was "Cynthia Sommer's suit against Dumanis proceeds". It was published two months after the July 2011 meetings, and after multiple request to UT staff, for an update on the progress of UT investigations. An e-mail was received by GTI News, stating:
"Woody…we have published one story from your tips. You can find it here".

http://www.signonsandiego.com/news/2011/sep/01/prosecution-of-sommer-is-subject-of-suit/
The article was written by Aaron Burgin, and was clearly "cover your ass (CYA)" reporting. The one page article, on the DA Office's Sommer Murder case conspiracy, targeted only Republican DA Bonnie Dumanis, and her ongoing Mayoral campaign. It mentioned co-conspirator, and former lead prosecutor in the Sommer case, DDA Laura Gunn only once. There was nothing about DDA Gunn's suppression of a witness, and investigations of other officers, involving more than fifty (50) police and DA evidence tampering cases. Cases suppresion with the direct knowledge, and support of DA Dumanis, and the DA's internal affairs division. All of which were DA obstructions to avoid criminal and civil liability up to, and beyond $20 Million dollars, for evidence tampering in the Sommer Murder case prosecution, and other cases.
The first and only "Sommer murder" prosecution article, by Aaron Burgin referred to the prosecution as "an unsuccessful murder prosecution" in the third paragraph. A false prosecution that put an innocent woman in prison for two and a half years, on poison evidence that never existed, while Burgin and the UT avoided investigations, and it was called "unsuccessful" by reporter Burgin.
A prosecution, when overturned, and investigated by GTI News, exposed a DA criminal conspiracy by Dumanis, Gunn, and the DA's office to avoid civil and criminal liability in the false Sommer prosecution, by conspiring to manipulate, and obstruct the courts full dismissal of the Sommer murder case. A DA conspiracy directly involving DDA Gunn's assignment to suppress other evidence tampering cases, and the suppression of witnesses, to wide spread Oceanside Police evidence tampering, with other Deputy DA's. All to protect multiple ongoing DA evidence tampering cover up operations, and obstruction of justice.
As Previously Reported By GTI News & Given To UT Reporters:
The Burgin UT article completely avoided all direct connections of Dumanis, and Gunn, to other DA Attorneys, conspiring with other Oceanside Police Officers. The article did not even mention the word evidence tampering, or the public record documents GTI News obtained from the DA's files, laying out a DA criminal conspiracy to obstruct justice. Public Record documents provided to the UT reporters.
Evidence tampering where innocent people were prosecuted and jailed, for crimes they did not commit, to protect corrupt Cops and DA's from criminal arrest and prosecution. Everything that was omitted from the Burgin article, directly involved large scale Police, Firefighter, and District Attorney Unions evidence tampering, and election fraud for money. All of which had direct financial connections to high level Democratic Officials, including two Attorney Generals.
As Previously Reported By GTI News & Given To UT Reporters:
The obvious glaring omission in the first UT article were detailed in a GTI News e-mail to Editor Light dated 9-13-11. Light was reminded that the Dumanis evidence tampering was directly connected to the Oceanside Police evidence tampering and the First Responder election fraud conspiracy. Light was also told of new documentation tracking the illegal money trails, from the Oceanside Firefighters union, through the Kern Recall Election fraud.
THE UT COVER UP ORIGINS
This undercover reporter's earliest UT contacts included regular face to face meeting with UT reporters Michael Burge, and Aaron Burgin. Editor Light had stated in June of 2011, that Michael Burge no longer worked for the UT, and that it was a good thing. This reporter had made it clear that Burgin was the wrong person to investigate his own cover up. As a citizen of Oceanside, this reporter used the bi-monthly city council meeting public speaker sessions, to place public record evidence into the council records, which were recorded and broadcast by Public Broadcast Television.
Michael Burge was the UT reporter assigned to cover all Oceanside Council meeting from 2008 through June of 2010. In June of 2010 Aaron Burgin, replaced Burge, for the last half of 2010, and 2011. Both reporters were personally contacted by this undercover reporter, at three out of four City Council meeting, and given detailed updated information, and public record documentation, on the election fraud, how it was done, who was involved, and where to find the public record evidence in the city files. Reporters Burge, Burgin, and others were also given regular information via regular e-mails.
Reporters Burge, and Reporter Burgin made it clear on most contacts, that they did not want some citizen telling them about first responder public corruption. On many occasions, Burgin went out of his way to try and avoid contacts.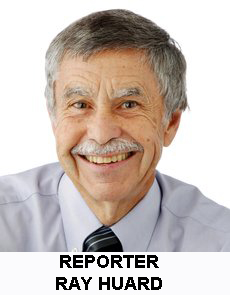 During every Council meeting, Burgin sat in the press booth next to North County Time Reporter Ray Huard, who, like Burgin had full knowledge of the ongoing election fraud conspiracy, and the facts that the NCT was also avoiding reporting on the first responder public corruption. Burgin, and other reporters were later told the NCT had taken over a hundred thousand dollars from the police and fire unions while Huard, and other NCT reporters looked the other way. Cash payments, for knowingly publishing and delivering falsified election campaign literature. This same information was given to Editors Light, and Young during the June 2011 review meetings.
Reporter Burgin, like Huard, also sat quietly in council meetings as retired cop Mayor Jim Wood ordered police to assault, and remove citizens from meetings, if they complained about police, firefighter, and Council public corruption. There was never any publication, or follow up, on any of the public corruption by Reporters Burge, or Burgin, or any UT, or NCT reporters, like Ray Huard, Terri Figueroa, Kent Davy and other that would become UT reporters, with the UT purchase of the NCT, in December 2012.
DECEMBER 2011 - UT OWNERSHIP POLITICS RADICALLY CHANGES & SO DID THE PROMISED UT PUBLICATION AGENDA
On December 7 there was an observable shift in the publication priorities of the UT News Division. There was no further UT discussion about going after the CONSERTATIVE North County Times, for it's part in the First Responder election fraud, and no interest in connecting Republican Dumanis to the wide spread DA, and police evidence tampering.
This reporter received an e-mail that December 7, from Watchdog Editor Ricky Young regarding this reporters concerns, on the lack of reporting, expressed earlier to Editor Light. Young dismissed this reporters concerns about the very abbreviated Dumanis article, by his Watchdog reporter Burgin. Young stated an interest to move on, to the DA's insurance fraud scheme, reported to Young, Burgin, and Light in the July staff meetings.
This reporter reminded Young, as Editor Light had been reminded in the September e-mails, that GTI News had seen no evidence of the promised UT investigations, or reporting, on the Oceanside First Responder Election Fraud conspiracy, or the DA and Police wide spread evidence tampering. Young was also advised that a Whistle Blowing Oceanside Police Officer had surfaced, with audio recording, of senior Oceanside Officers conspiring to destroy more audio evidence, in criminal investigations, of other Oceanside police officers.
Young's only response was, "Thanks, Woody, we have to take these one at a time... But these other tips sound promising as well."
There was no observed follow up investigations by the UT. A year later when court records disclosed the Oceanside City Attorney's Office, had attempt to suppress the criminal audio evidence recordings, by threatening the Officer and his attorney, with criminal prosecution, if they gave the audio evidence tapes to the News Media, there was still no investigation by the UT, or any other news group.
The reasons for the change in UT publication priorities soon became clear. December 2011 was also the month the UT announced, the LIBERAL UT Newspaper, owned by Platinum Equity, was being sold to well known ULTRA CONSERVATIVE ANTI-UNION CORRUPTION advocate, Douglas Manchester. It is not know how much the Platinum Equity management and ownership, knew about GTI News's June 2011 request for interviews on the three years of News Division public corruption cover up. However, the UT reporters were well informed in 2009 and 2010, and senior news staff was fully advised in June and July 2011, in face to face meetings, and multiple e-mails with documentation. News stories stated that Manchester was the only real viable buyer in the bidding process.
Any GTI News reporting in the last half of 2011 on UT wide spread public corruption cover up, would have definitely impacted the $110 Million dollar sale price of the UT, to a man with Douglas Manchester's reputation. The cover up of wide spread First Responder, and District Attorney Union election fraud, evidence tampering, and civil rights violations, would NOT be a positive factor, for the Platinum Equity marketing, and sale of the UT. A sale with a $75 Million dollar profit for Platinum Equity, from a $35 Million dollar purchase just two years earlier.
As 2011 came to a close the UT reporters and staff public corruption cover up problems, for new owner Douglas Manchester, were just getting started.
---
PART II (COMING SOON)
THE UT NEWS DEPT. PUBLIC CORRUPTION COVER UP PLAN TO DELAY GTI NEWS REPORTING WAS STARTED IN JUNE 2011
THE UT STAFF AND REPORTERS DID NOT KNOW, CONSERTATIVE DOUGLS MANCHESTER WOULD BE BUYING THE UT FIVE MONTHS LATER.

NEW OWNER MANCHESTER DID NOT KNOW THE PUBLIC CORRUPTION COVER UP, WOULD BE HIDDEN TO PROTECT THE DECEMBER 2011 SALE, OF THE UT FOR $110 MILLION DOLLAR TO MANCHESTER.

EVEN WORSE, THE UT STAFF AND REPORTERS DID NOT KNOW THAT MANCHESTER WOULD HAVE PLANS TO BUY THE CORRUPT CONSERVATIVE NORTH COUNTY TIMES ONE YEAR AFTER BUYING THE UT.

AS 2012 STARTED, MANCHESTER DID NOT KNOW, THE UT REPORTERS AND STAFF, WOULD ALSO HIDE, NCT REPORTERS CONSPIRING WITH FIRST RESPONDER UNIONS, IN AN ELECTION FRAUD, EVIDENCE TAMPERING CONSPIRACY, AND ITS COVER UP.

OR, THAT THE SAME NCT REPORTERS AND EDITORS WOULD BE HIRED TO WORK ON THE NEW UT.