MAY 2013
THE ASSOCIATED PRESS

ASSOCIATED PRESS $1 BILLION DOLLAR DEBT, DRIVES AP 4 YEAR PUBLIC CORRUPTION COVER UP CONSPIRACY NATIONWIDE
GTI News's two year undercover investigation in Oceanside, and San Diego, California in 2009 and 2010, of First Responder Union Election Fraud , wide spread Police and District Attorney evidence tampering, and conspiracy to obstruct justice through its cover up, exposed some STARTLING co-conspirators. The Police and Firefighter Unions DIRTY MONEY trail lead directly to the North County Times Newspaper, and eventually to it's owners Lee Enterprises Associated Press, and other major news organizations.
When GTI's investigation in 2010, disclosed that local Newspaper and Television organizations were avoiding investigations, and publication, on the first responder public corruption, GTI's investigation expanded to include the the news media. GTI News discovered that the North County Times was knowingly publishing and delivering falsified campaign literature supporting the on going first responder election fraud conspiracy, in exchange for more than $100,000.00 in cash payments from the First Responder Unions.
With all local news groups avoiding investigations of hundreds of criminally dirty cops, firefighters, District Attorneys, high level Elected Officials, and their unions, GTI took the stories and documentation to the Associated Press. The problem was the AP had no interest in investigating, or reporting. Addition investigation disclosed why. The Associated Press owned the North County Time, they were actively looking for a buyer with $12 million dollars. A newspaper conspiring with public unions in election fraud for money, was not a good selling point, especially to a consertative anti-union corruption potential buyer like the new owner of the San Diego Union Tribune. Additional investigation disclosed the nation wide AP cover up, of the NCT public corruption conspiracy to protect sale value, was only one of the motives for the AP cover up, and it involved a lot more than just $12 Million dollars.
As Previously Reported By GTI News:

Co-Conspirator (Accessory)

In common law, an accessory could not be found guilty unless the actual perpetrator was convicted. In most U.S. jurisdictions today, however, an accessory can be convicted even if the principal actor is not arrested or is acquitted. The prosecution must establish that the accessory in some way instigated, furthered, or concealed the crime. Typically, punishment for a convicted accessory is not as severe as that for the perpetrator

An accessory after the fact is someone who knows that a crime has occurred but nonetheless helps to conceal it. Today, this action is often termed obstructing justice.

In Criminal Law, contributing to or aiding in the commission of a crime. One who, without being present at the commission of an offense, becomes guilty of such offense, not as a chief actor, but as a participant, as by command, advice, instigation, or concealment; either before or after the fact or commission.
The North County Times would be sold by Lee Enterprises in December of 2012, for a reported $12 Million dollars, to the only other major newspaper in the county, the San Diego Union Tribune. In 2010 and 2011, at the height of the the AP cover up, the AP did not know that the liberal Union Tribune would be sold in late 2011, to hotel magnate Douglas Manchester. A man know for his conservative, and out spoken anti-union corruption views. Any hint of the NCT public corruption union conspiracy could dramatically reduce the $12 million selling price of the NCT. A price estimated by many experts to be three times higher than the actual value of the newspaper, based on reports of declining annual revenues, and the AP Lee Enterprises desperately needed cash.
The North County Times was only marginally profitable. When the North County Times Election Fraud Conspiracy, with First Responder Unions surfaced in 2009 & 2010, Lee Enterprises had a billion dollars in debt, and they were headed for bankruptcy. Bankruptcy which did get filed in late 2011. The value of Lee Enterprises was far less than its billion dollar plus debt.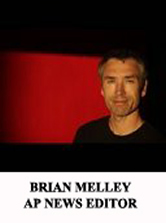 This reporter was providing public record evidence, on the NCT, and the election fraud directly to AP reporters nation wide, on a regular basis well into 2012, including reporter Elliot Spagat in San Diego, and AP news editor Brian Melley in Los Angeles. Dozens of phone calls, and hundreds of e-mails, with public record documentation, were sent to every AP office in the nation. Every AP Office, and reporter contacted about the North County Times election fraud conspiracy, not only knew it was one of their newspapers, they also knew about the billion dollar debt, and the bankruptcy negotiations.
Sensitive negotiations, which could throw thousands of AP reporters and employees out of work, if the AP NCT public corruption cover up got out. Lee Enterprises was frantically negotiating with investors, and creditors through out 2011 and 2012 to save the Associated Press. The worst possible news that could be published in the middle of those negotiations, was a Lee Enterprises AP Newspaper directly participating in public union election fraud for money, and covering up police and DA evidence tampering, where innocent people were being jailed for crimes they did not commit. All by the same Police and Prosecutors involved in the election fraud. All while the evidence that could clear them was hidden, manipulated, or destroyed by police and district attorneys, with the help of the AP, and other News Media Groups.
In mid-2012 with all contact to AP reporters being blocked, this reporter contacted AP News Media Director Paul Colford. Colford was given extensive information of the North County Times Public Union corruption and its cover up, and the obstruction and cover up that was occurring in San Diego and Los Angeles offices of the AP. Colford not only refused all request for information on the cover up, Colford also refused all request for interviews. Colford also refused to provide contact info, or pass the corruption information up the chain of command, or even provide contact info to superiors that could speak on the AP public corruption cover up. All future phone messages and e-mail contacts got no response.

All contacts in mid 2012, with the office of recently appointed AP Chairman of the Board Mary Junck requesting interviews were refused. In light of the new information on debt, and bankruptcy, GTI News now understands why Junck, and Colford did not want to hear about AP Newspapers conspiring with First Responder Unions to criminally defraud hundreds of thousands of citizens, of million of dollars in Oceanside, California
. Even worse, covering up at the same time, that the same police officers, including the Chief Of Police, were criminally conspiring with multiple District Attorneys and DA Dumanis herself, to cover up the false arrest and prosecution of innocent citizens. First Responder organized crime so extensive it qualifies as Racketeering and Domestic Terrorism. However, Mary Junck did get promoted to Chairman of the Board, and received a major stock bonus while the company was in bankruptcy.
This reporter is having a hard time understanding how so many "so called good" AP reporter, from the Hallmark of journalism organizations, could look the other way with this kind of public corruption going on, even if it cost them their jobs. This reporter has investigated almost a dozen major news organizations, with regular contact, with more than fifty reporters. All of which directly or indirectly financially benefit from covering up the wide spread first responder union public corruption, and the criminal fraud of millions of citizens.
Public corruption so extensive, with know union dirty money trails, and knowledge, directly into the offices of the Attorney General and Governor of California. So many cops, firefighters, and District Attorneys are involved in the organized crime, and racketeering, that even the FBI ran for cover suppressing all criminal complaints and investigations as they fled, and threatened honest reporters trying to stop publication, and it is all recorded on AUDIO.
There are several possibilities that come to mind based on this reporters observations and conversations with "so called" reporters. Large numbers of reporter are simply criminally negligent, to protect their political positions, or their jobs. What little main line media reporting, that was done based on GTI's investigations, was limited to Elected Republican Officials, while all Democrat Officals were protected.
This reporter has been surprised by how many reporters, that were contacted, were simply so incompetent, they would not, or could not recognize a news story, if it bit them in the ass. Even more reporters that were so illeriate, they could not find their own ass, inside a dark closet, much less read the PENAL CODE, and investigate public corruption.
ASSOCIATED PRESS PUBLIC CORRUPTION COVER UP

| | | |
| --- | --- | --- |
| ELLIOTT SPAGAT - REPORTER | SAN DIEGO AP BUREAU | espagat@ap.org |
| BRIAN MELLEY - NEWS DIRECTOR | LOS ANGELES AP BUREAU | bmelley@ap.org |
| 51 AP BUREAU CHIEFS | NATION WIDE | http://www.ap.org/Images/COB_Contact_List_tcm28-4967.pdf |
| MARY JUNCK - CHAIRMAN & CEO AP | LEE ENTERPRISES, INC. | information@lee.net |
| PAUL COLFORD | MEDIA RELATIONS DIRECTOR | pcolford@ap.org |