MAY 1, 2012

ABC, CBS, & NBC NETWORK NEWS PUBLIC CORRUPTION "INCEST" & POLITICAL REPORTING BIAS, WITH DIRTY FIRST RESPONDERS UNIONS & DISTRICT ATTORNEYS
THE NEWS MEDIA PUBLIC CORRUPTION INCEST FOR MONEY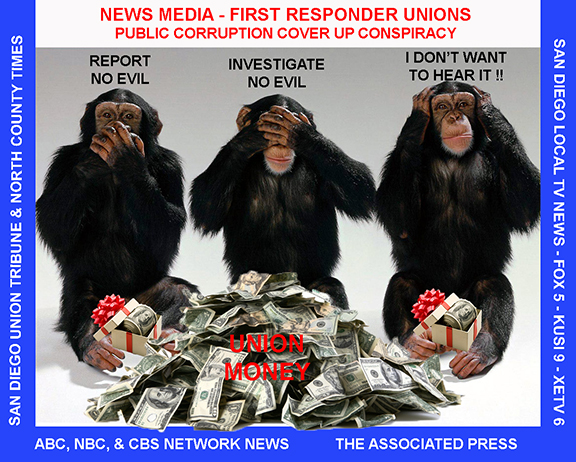 The last Public Safety Family members, that citizens would ever expect to find in bed with each other, covering up felony criminal public corruption, is the nations News Media, and the peoples first responder Police Officers, Firefighters, and District Attorneys.
However, in San Diego County and California, that is exactly the case. The glue that holds the corruption cover up together, is "Dirty Union Money" from election fraud. First Responder Unions, and news media groups, that are suppose to be the protectors of our constitution, and both groups have legal and constitutional obligations to protect citizens civil rights, and their constitutional freedoms. If any corrupt relationship ever deserved to be labeled as "INCEST" of the worst kind, this is it. An incestuous relationship of massive public corruption cover up, so serious the crimes are designated as a "Threat To National Security" by the Federal Bureau Of Investigation. The protected first responder union public corruption election fraud, evidence tampering, and civil rights violations, is out of control in San Diego County, and the state of California. The public corruption flourishes as it receives the full protection and cover up by the majority of news media groups, and the "Blue Wall" of law enforcement.
This news media protected system of corruption is primarily driven by greed for "MORE UNION ADVERTISING MONEY", and "FEAR" of what the first responder unions would do to anyone, or anything, that endangers their cash flow. A few current examples of how unions retaliate, and punish offenders, are the union's Wisconsin recall elections, the frequent violent boycotts on non-union businesses, and the unions financial and political support to the occupy wall street movement, which is know for its violence.
The secondary news group considerations for the corruption cover up, include the protection of their news reporters access to news sources, inside of police and district attorney offices. In a post 911 world, most news groups are terrified about going after large numbers of corrupt police officers and firefighters, for conspiracy to obstruct justice, election fraud, and evidence tampering. One or two dirty cops, firefighters, or district attorneys is one thing, however, hundreds of dirty cops, dirty firefighters, and dirty DA's, coordinated by their unions greed, is a totally different issue, to historically liberal news groups. All evidence, and the union money trails to news groups advertising departments nation wide, clearly demonstrates that the network news media's first responder union corruption cover up is not limited to San Diego, or California.
THE SAN DIEGO NETWORK NEWS MEDIA CONTACTS

| ABC KGTV NEWS 10 SAN DIEGO | CBS KFMB NEWS 8 SAN DIEGO | NBC KNSD NEWS 7/39 SAN DIEGO |
| --- | --- | --- |
| J.W. AUGUST - MANAGING EDITOR | PAT NEVIN - NEWS DIR. | GONZOLO ROJAS - REPORTER |
| JEFF BLOCK - GEN. MGR. | MIKE - REPORTER | JESSE GARCIA - REPORTER |
| JOEL DAVIS - NEWS DIR. | NEWS DESK | RICHARD KELLY - GEN. MGR. |
| NEWS DESK - NO NAME | ELYSE SENSABAUGH - PROGRAMING MGR | GREG DAWSON NEWS DIR. |
| | | NEWS DESK |
| | | PAUL KRUGER - SENIOR PRODUCER |

The above news reporters, news directors, news general managers, etc., and many un-named reporters, received hundreds of contacts, via phone and e-mail, with attached public record evidence, on all aspects of the first responders public corruption between September 2009 and April 2012. Many reporters contacted by phone would not even provide their name, or contact information, as soon as the reporters heard the corruption news tips involved unions, and their first responder members. Many news managers and senior reporters, stated they did not have the time, or financial resources to investigate public corruption, on such a large scale, even though public corruption investigations have always been the primary function, and responsibility, of a free press.

Many reporters felt their time was too valuable, to spend more than 30 seconds on the phone, to discuss a leads, or news tips, on public corruption, and the excuse was always the same. They "had a deadline", and they would get back to this reporter in the near future. Most of the reporters contacted had no idea what the laws were on election fraud, or police and DA evidence tampering. They had no idea where to look for evidence in public records, or they were just too lazy. As time passed, it became very obvious that many reporters, were anything but reporters, and they either did not want to waste their time investigating first responder public corruption, or they did not know how.

Many reporters could not believe that anyone would openly investigate large numbers of police officers, firefighters, district attorneys, and their unions on felony crimes. Many even suggested that this reporter get a bullet proof vest, and regularly check under the car for bombs.

More than 10,000 e-mail news leads, with attached public record documentation were sent, to more than 500 news organizations and reporters, including ABC, CBS, and NBC, over the two year period, in an attempt to get news groups to investigate, and warn the public. Public corruption that involved hundreds of police officers, firefighters, district attorneys, elected officials, their unions, and their financial and political supporters. Many news organizations simply demanded that their names be removed from the mailing list, and even threatened to file spamming complaints with web providers. Threats from news organizations that actively advertised on their web sites, and solicited news tips, and public comment did not really want to hear about first responder union criminal corruption.

Many news contacts accused this reporter of being a "cop hater", "untra right wing ass hole", "republican stooge", "union hater", etc., even thought no political affiliations had ever been assigned to any of the public corruption information. The only people that demonstrated a clear political bias, were the news groups. It just happened that the vast majority of people involved with the public corruption were connected to the unions and their money, and the vast majority of corrupt officials were democrats. They just had the misfortune of coming up against a reporter that was an "honest former police officer". A Police Officer that did not tamper with evidence or cover up for dirty cops, and a Police Officer that definitely did not tamper with elections to increase my pay and benefits.

ABC, NBC, AND CBS PUBLIC CORRUPTION COVER UP

In September and October of 2009 the San Diego network news operation contacts were initiated, with J. W. August (Managing Editor) of ABC kgtv News 10, Mike (last name refused - News Desk Reporter) CBS kfmb 8, and Gonzolo Rojas (Reporter) at NBC 7 knsd. These contacts would continue and expand over the following two years with more than 200 phone call and e-mail notifications with full public record documentation.

During multiple initial contacts, NBC 7 reporters Gonzolo Rojas and Jesse Garcia stated that they were very interested in the election fraud, and evidence tampering stories, and they were going to "pitch the stores to their news director", however, there were never any call backs. As time passed all phone calls went to message systems, and e-mails were not answered. CBS reporter Mike on the news desk, also made several similar statement about pitching the story to his news director, which also became no follow up, and no response to phone call messages and e-mails. Contacts with other CBS and NBC reporters would follow the same pattern of initial interest, followed by no call backs.

In August 2011 NBC 7 San Diego news director Greg Dawson was contacted for an interview regarding the failure of NBC to investigate and report. Dawson stated that none of his staff had approach him, with info on any of the public corruption. Dawson was told that NBC's news media partner, the North County Times, had directly participated in the election fraud conspiracy in exchange for approximately $100,000.00 in election advertising. Dawson requested that additional information be sent to his attention via e-mail. In follow up contacts Dawson stated he was very interested in the public corruption stories, and was assigning Senior Producer Paul Kruger to investigate, and that GTI should coordinate with Kruger. In the following weeks Kruger, like other local news groups zeroed in of the Republican DA Dumanis evidence tampering, but they did not want to pursue democrats, public unions, or their news media partner North County Times, that was involved in the same corruption. When Kruger was questioned about the obvious political bias, and the protection of their news media partner, all communication stopped. The stories that were picked up by local news groups, and published on Republican Dumanis's evidence tampering, carefully avoided publishing on DA Dumanis's and the DA's office, direct connections to the Oceanside first responder unions evidence tampering, or the associated election fraud.

As Reported By GTI News Photo:

ABC, NBC, and CBS were not the only news organizations financially benefiting from the public corruption cover up. In 2010 all of the news groups were told the largest news group in north county San Diego, The North County Times, had taken over $100,000.00 from the corrupt Oceanside police and firefighters unions, for covering up the union election fraud. The campaign finance records, that had been falsified by the unions conspiracy, to hide their financial control over the election fraud, disclosed the direct cash payments to the North County Times. The NCT was knowingly publishing and delivering the unions falsified campaign literature, in exchange for the money. Literature that had been specifically designed to illegally manipulate the votes of citizens. Eleven reporters and editors of the NCT, that knew the literature was fraudulent, were suppressing all investigations and reporting on the first responder unions election fraud. The cover up of the large scale evidence tampering by the same union Oceanside police officers, and local district attorneys was a side benefit bonus, as the NCT could not report on one, without reporting on the other, and either investigation would have cut off the cash flow from the firefighters & police unions to the NCT advertising department.

The ABC 10 News contacts with J.W. August continued for more than a year. On several occasions August stated he was having their attorneys review the stories and documentation, and later requested an exclusive on all reporting of the public corruption. When August was informed that other news groups had already been given extensive documentation, August lost interest and stopped taking GTI's calls, and responding to e-mail. Especially those e-mails requesting interviews with August, ABC News 10 reporters, and News directors, to explain why News 10 avoided reporting on the first responder union corruption.

On March 12, 2010, in response to multiple phone and written notifications on the Oceanside Police and Firefighter election fraud, the Police and DA evidence tampering cover up, and the involvement of DDA Damon Mosler's Special Operations Division, ABC Managing Editor J.W. August stated,

(JW)"you may have a legitimate honest to goodness story....but i can spend either the time or effort to bring it to television .....i have trouble believing these two agencies are in cohoots....i know the district attorney on this....he is a pretty damn straight arrow".

As Reported By GTI News Photo:

In late 2009 and early 2010 DDA Mosler and his special operations division had direct knowledge of, and was handling complaints and investigations of criminal election fraud, and evidence tampering directly involving at least five district attorneys, including DA Dumanis herself, and more than one hundred Oceanside police officers firefighters, elected officials, and political and financial supporters of the unions. Not one case ever left the DA's internal affairs office, and went to prosecution. The DDA Marugg e-mail docs would exposed the DA Office's conspiracy blue print to obstruct justice , in writing, in 2012.

In mid March 2010 the Oceanside Officer Jon Domonique evidence tampering surfaced, and all network news groups were given the documentation. ABC's J.W. August stated:

(JW) "Woody....I wrestle with your e-mails.....what you say is so damning.....but you have never gotten traction on any of it...."

(JW) "I would absolutely have to dump three stories to pursue your claims....at least....I cant roll the dice on you claims until I have more clarity"

August was accurate about traction with the news media. Not one of the major news organizations had ever followed up, investigated, or published on any of the extensive first responder union public corruption, and that included ABC, who stated they needed more clarity, but did not want to assign reporters to investigate the unions, or the involvement of the North County Times for money.

(JW) "What I do agree with you on is:

Smith did something wrong"

"OSPD culture is suspect--the agency has always had my attention but never have I landed anything"

As Reported By GTI News Photo:

"Some in Da office will do thing to make a case that are unethical and possibly illegal"

As Reported By GTI News Photo:

In mid August 2011 when the request for interviews with ABC, CBS, NBC, and others, were initiated, the news groups response radically shifted. Suddenly it was the hear no evil, see no evil, and speak no evil response, and we never understood what you were saying anyway. All communication from CBS and NBC stopped. ABC's J.W. August's views of the Officer Smith evidence tampering being wrong, the Oceanside police culture being suspect, and the DA's office doing unethical and possibly illegal things, shifted to:

(JW)"why not try a magazine to publish this....you don't need broadcasters to get your story out ...apparently we just don't get it......."

No one, including Managing Editor August wanted to answer questions, or discuss in any way, why the news 10 never reported on the North County Times taking $100,000 for covering up police and firefighter unions election fraud. All network and local news television groups avoided investigating, and reporting on the North County Times corruption payoffs.

A major news organization had directly participated in the cover up, distribution of falsified campaign literature, and the success of a first responder union election fraud conspiracy, in exchange for $100,000.00, and not one news organizations would investigate or publish. It should also be noted that The North County Times, is also the "News Media Partner" of NBC 7 San Diego.

ABC's news media partner is the San Diego Union Tribune, who like the North County times, was given all documentation, and they had reporters directly covering all Oceanside City Council meeting, just like the North County times, but that is another story.

THE SHOCK OF INTERVIEW REQUEST

There was never any observed follow up investigations , or reporting, on the thousands of phone call and e-mail contact given to the news media, including ABC, CBS, and NBC, on extensive first responder public corruption. However, the lack of response changed when GTI News Photo started asking for interviews with the news directors of San Diego's television news groups, and newspapers in late 2010 and 2011. Most request for interviews with news group reporters were quickly and sharply refused, and many of the news groups were more than a little irritated that anyone would investigate the news media, much less ask them for interviews, regarding reporters avoiding union public corruption stories. A number of direct personal contacts were made at all San Diego television stations, to make sure news groups had the opportunity to go on the record before publication. CBS KFMB News 8 staff immediately ordered this reporter to to leave the property, and never come back. The middle aged male employee refused to identify himself, and KFMB was not the only station telling this reporter he was trespassing, and to leave the property immediately.

News reporters that make their living from news interviews, refused to be interviewed by anyone, regarding news media cover up of public corruption, for money. Follow up phone calls to CBS news director Pat Nevin, and NBC news director Greg Dawson were initially exceptions, and both stated they had no knowledge of any of the public corruption phone contacts and e-mail notices to their reporters. Both news directors requested full information, and both were provided with GTI News Photo's web address, and links to articles discussed on the phone. Multiple follow up phone calls and e-mails were never returned.

The ABC news director Joel Davis, and General Manager Jeff Block never responded to any personal, phone, or e-mail contacts requesting interviews, regarding ABC news reporters avoiding investigations, and not reporting, on first responder union corruption, or on the news media organizations taking money for the cover up of public corruption.

ALL REQUEST FOR INTERVIEWS WHERE REFUSED !!!

There has been no know reporting of any of the first responders unions public corruption, by ABC, CBS, or NBC San Diego Television news stations as of the date of this article.
WHAT THEY KNEW AND WHEN THEY KNEW IT
For more than three years, between September 2009 and 2012, all major local and national News Agencies, including the reporters of ABC, CBS, and NBC news groups were given full details, and copies of public record evidence, of extensive first responder, and District Attorney public corruption, in San Diego County, and California. The phone and e-mail contacts, also included e-mail "Breaking News" notifications on more than 50 articles with attached public record documentation, including the following:
(1) ABC, CBS, and NBC were told that more than 172,000 Oceanside, CA. citizens were being criminally defrauded of millions of tax dollars, by their own Police and Firefighter agencies, and their unions. That the fraud was the result of an election manipulation conspiracy, planed, financed, and executed, by several hundred cops and firemen, to illegally manipulate votes in elections, for the purpose of expanding their union pay and benefits.

As Reported By GTI News Photo:

(2) The network news media was told, that for more than ten years, hundreds of citizens, possibly thousands, had been arrested, prosecuted, and jailed, while the police departments, and the San Diego District Attorneys office, conspired to falsify evidence, destroy evidence, and hide evidence, that could clear innocent people of felony crimes. Six innocent victims had been discovered, and reported to all authorities. The evidence tampering included evidence of extensive criminal conduct by large numbers of Police Officers, District Attorneys, and Elected Officials. Evidence that could put them in prison, while the evidence, and written criminal complaints, were routinely destroyed, or suppressed by police and DA's. Much of the evidence involved senior law enforcement officials like Chief Frank McCoy, the Mayor and Deputy Mayor of Oceanside, San Diego District Attorney Bonnie Dumanis, and California Attorney Generals Brown, Harris, and Schons. All of which, were financially benefiting, from union money, obtained through obstructing justice, and covering up a variety of fraud conspiracy schemes, and public corruption.

As Reported By GTI News Photo:

(3) ABC, CBS, and NBC reporters were told the State of California was operating a criminal insurance fraud scheme, through bribes to District Attorney's Offices, that was aiding and abetting the criminal insurance fraud of 34 million California citizens, in exchange for "Special Funding Grant" money. Money grants that were being used to limit citizens criminal insurance fraud protections, and expand union jobs, pay, and benefits in the DA's insurance fraud investigation divisions.

As Reported By GTI News Photo:

The insurance benefit criminal protections (CPC 520) of 34,000,000 California citizens are suppressed by bribes to District Attorneys, and for three years not one news organization investigated or published. In 2012 the San Diego Union Tribune picked up on part of the story, however, no other news groups have followed suit.

(4) ABC, CBS, and NBC reporters were told that the California Attorney Generals Office, including AG Brown and Harris, were suppressing all complaints and investigations of the first responder election fraud, and evidence tampering, to protect their on going campaign financing. Campaign financing that was being supplied by the same unions, that were financing the Oceanside Police and Firefighter election fraud. AG Brown spent more than $43,000,000.00 on his run for governor, and the vast majority of the money came from firefighters, police officers, their public unions, and private unions, which included the same unions providing direct financial support the Oceanside Police and Firefighter election fraud conspiracy. If AG's Brown or Harris, went after the unions, police officers, and firefighters involved in the Oceanside election fraud, it could have cut off more than 80% of their campaign financing, and not one news organizations was willing to investigate, or report.

As Reported By GTI News Photo:

UNION MONEY & THE NATIONAL NEWS MEDIA

GTI News Photo's expanded investigations, into the the news media groups, easily disclosed the union money trails. The Union money trails, and the corruption cover up, lead directly into many of the news organizations pay and benefits, via union campaign financing money, to the news organizations advertising departments. The Wisconsin recall elections are a perfect example of nation wide unions channeling vast amounts of money into local elections, over whelming local resources, and manipulating the local voting structure to expand union pay, benefits, and control, exactly the same way they did in Oceanside, CA.

Local, State, and National Elections have been channeling hundreds of millions of union campaign finance dollars, into the television and newspaper companies, and their news organizations for decades. The corrupt smell of political bias, cover up, and selective reporting in San Diego, was as obvious as standing inside an old outhouse toilet. In September of 2009 GTI News Photo initiated a system of recording and documenting all news media notifications and contacts, and started monitoring what parts of the public corruption the news groups would, or would not, investigate and report.

"The Wall Street Journal published many stories on union money, including a story following the union money trail. The American Federation of State, County and Municipal Employees Union (AFSCME) is the single biggest outside donor in all of American politics. And while they donate to some Republican in local elections, AFSME donates almost exclusively to Democrats for federal elections, and the same is true of most public and private unions. Independent studies have shown that ninety two percent of union money is donated to Democratic candidates, and the vast majority of all union donations are used to pay for advertising in television, news print, and campaign literature publishing and distribution by the media. The election campaign advertising money is concentrated in the unions, and the news media advertising departments are well aware of that fact. The same union money runs the public corruption from Oceanside, CA. to San Diego County, and into the Attorney General's office, and the Governor's office, in the state capital of California.

---
THE LAW

CRIMINAL CONSPIRACY -California Penal Code Sec. 182(a) - "IF TWO OR MORE PERSONS CONSPIRE TO COMMIT A CRIME", ANY CRIME.

Co-Conspirator (Accessory)

In most U.S. jurisdictions today,......... an accessory can be convicted even if the principal actor is not arrested or is acquitted. The prosecution must establish that the accessory in some way instigated, furthered, or concealed the crime.

An accessory after the fact is someone who knows that a crime has occurred but nonetheless helps to conceal it. Today, this action is often termed obstructing justice.

In Criminal Law, contributing to or aiding in the commission of a crime. One who, without being present at the commission of an offense, becomes guilty of such offense, not as a chief actor, but as a participant, as by command, advice, instigation, or concealment; either before or after the fact or commission.

AND, THE LAW DOES NOT MAKE EXCEPTIONS FOR NEWS REPORTERS !!!!