SAN DIEGO, CA.
DECEMBER 4, 2010
HENRY COKER, HEAD OF THE PUBLIC DEFENDERS OFFICE
PD HENRY COKER STATES "OFFICER DAMON SMITH'S CONDUCT IS CLEARLY CRIMINAL" & ALL OF HIS CASES WOULD BE THOROUGHLY INVESTIGATED.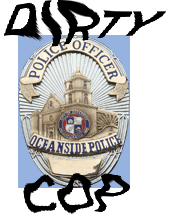 On October 26, 2009, Henry Coker, the new head of the San Diego County Public Defenders Office was contacted regarding the Oceanside Police Officer Damon Smith evidence tampering cover up. Mr. Coker stated he was familiar with the incident, and that an investigation was underway in the District Attorney's office. Mr. Coker could not explain why the Public Defenders Investigation, promised back in April 2009 by his predecessor Steven Carroll, had never been started. Mr. Coker stated he would make sure that the error was corrected. Coker stated that all of Officer Smith's cases would be thoroughly investigated by the Public Defenders Office, and there would be no special treatment of Damon Smith, because he was an Oceanside Police Officer.
As Reported By GTI News Photo:
Mr. Coker expressed disbelief, when questioned about DA Dumanis, and OPD Chief Frank McCoy, issuing press releases stating that Officer Smith had not done anything illegal, and would not be prosecuted. Mr. Coker stated that that someone, must have incorrectly reported the statements of DA Dumanis and Chief McCoy, as "Officer Smith's conduct was clearly criminal conduct". Mr. Coker rejected the accuracy of the reported press releases, and stated he would have to see the news stories, and if necessary, he would talk to the District Attorney's Office directly.
This reporter then provide Mr. Coker with the identity, and contact information, of a witness to the involvement of other Oceanside Police Officers, in the eight years of evidence tampering by Officer Smith. The witness was Criminal Defense Attorney Andrew Lynberg. Mr. Lynberg was the attorney that discovered the Officer Smith evidence tampering, while Smith was testifying under oath in the North County Superior Courts, on a domestic violence case. Mr. Coker was advised that Officer Smith, had told Attorney Lynberg, that his eight year history of recording criminal investigation, and hiding the audio tapes was, "Common Knowledge Among The Officers He Worked With" at the Oceanside Police Department during that period of time.
Coker was also advised that the Lynberg witness information, had also been filed with the District Attorney's Office and the Oceanside Police Department, and that both agencies covered up Lynberg's existence, and avoided contacting witness Lynberg. The witness suppression was done to avoid identifying additional Oceanside Police officers, that would expose the criminal cover up conspiracy, and expand the number of corrupted DA criminal prosecutions. Mr. Coker stated he would follow up with the witness and the DA's office.
Mr. Coker stated it was the responsibility of the Public Defenders Office to protect the legal right of all criminal defendants, and there would be a thorough investigation. Coker requested that I send written documentation via e-mail, and to contact him if new information was discovered.
On October 27, 2009 Public Defender William Trainer was contacted and given the witness Lynberg information. PD Trainer was second in command to PD Steven Carroll before he retired in June of 2009. Trainer had previously requested to be advised on any important information on the Damon Smith evidence tampering.
Six attempts were made to contact PD Coker between November 2009 and February 2010, as there was no evidence of any follow up, with witness Lynberg, by any law enforcement agencies. All messages left with Coker's assistant, Judy Crawford, were never returned. Crawford was also told about the Officer Jon Domonique evidence tampering. Crawford advised that the messages had been promptly delivered to PD Coker.
As Reported By GTI News Photo:
On February 1, 2010 PD Sloan Ostbey was contacted. PD Ostbey was appointed by PD Coker to head up the Officer Damon Smith investigation, and the 37 audio evidence tapes turned over by the San Diego District Attorney Bonnie Dumanis. Ostbey stated she had no knowledge of the witness Andrew Lynberg information given to Public Defender Henry Coker back in October of 2009. (See PD Ostbey Article)
As Reported By GTI News Photo:
On November 4, 2010, Witness Andrew Lynberg was contacted. Witness Lynberg stated that he had never been contacted by any agency, or investigator, since that day in April of 2009 when he discovered the Officer Damon Smith evidence tampering, and talked with Officer Smith about the involvement of other Oceanside Police Officers, in the eight years of evidence tampering in criminal investigations.
All law enforcement agencies, including the District Attorney's Office, the Oceanside Police, the Attorney General's Office, and even the San Diego Public Defenders Office, had joined the conspiracy to cover up eight years of massive evidence tampering, obstruction of justice, perjury, fraud, criminal assaults on citizens, and false arrest and false prosecutions of innocent citizens.
By Woodrow L. Higdon - woody@gtinewsphoto.com