APRIL 2013
A PUBLIC CORRUPTION CONSPIRACY OF PUBLIC AGENCIES FOR PUBLIC MONEY
FBI TWO FACED PUBLIC CORRUPTION DOMESTIC TERRORISM CONSPIRACY AND COVER UP IN SAN DIEGO COUNTY, CA.
The April 15, 2013 Terrorist Attack at the Boston annual Marathon has produced a stark contrast, on how the FBI defines, and investigates major threats to American Citizens, like Domestic Terrorism. Investigation decisions based on whether or not, the domestic terrorist are wearing badges of law enforcement.
"TERRORISM" (MARRIAN-WEBSTER)

"The use of violence and intimidation in the pursuit of political aims"

"the use of violent acts to frighten the people in an area as a way of trying to achieve a political goal"
Domestic Terrorism comes in all colors, and the worst color is law enforcement "Blue". The 2009 - 2010 "Oceanside, CA. First Responder" unions political election fraud conspiracy, and it's cover up, has evolved over the past three years of FBI co-conspiracy, and cover up. The GTI two year undercover investigation exposed an extensive pattern of law enforcement organized politically based crimes, and racketeering, protected by threats, intimidation, and the false prosecution and imprisonment of innocent citizens. A pattern of public corruption so horrific, it meets all legal criteria for Domestic Terrorism.
OCEANSIDE FIRST RESPONDER DOMESTIC TERRORISM POLITICAL AIMS & GOALS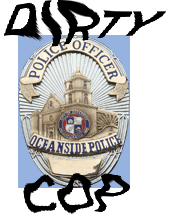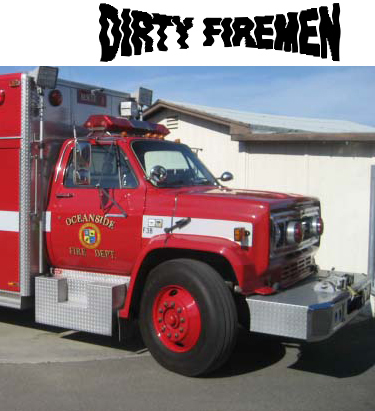 The Oceanside First Responder POLITICAL Election Fraud Conspiracy was planned, financed, executed, and protected from investigation through intimidation, and coercion by Police officers, Firefighters, District Attorneys, corrupt Elected Officials, and the FBI. The First Responders Political Public Corruption objectives included the removal of elected officials viewed as enemy's of the public unions, and their replacement, with new union controlled officials, that would vote in expanded pay and benefits for the first responder unions. Expanded pay and benefits exceeding $5 Million dollars, from a city deeply in debt, due to financial obligations from previous union contracts. Very clear "Political Goals" achieved through felony criminal conduct, and the FBI looked the other way because all the cirminal were wearing badges, and they were public union members, just like the FBI.
As Previously Reported By GTI News:
LAW ENFORCEMENT DOMESTIC TERRORISM THRU ORGANIZED CRIME, & RACKETEERING
Innocent people were falsely arrested by Oceanside Police Officers, falsely prosecuted by San Diego District Attorneys, and jailed for crimes they did not commit, while Police Officers and DA's hid, manipulated, and destroyed the evidence, that would clear the innocent citizen, and put law enforcement members in jail.
When the public corruption crimes were exposed, Police and DA's conspired to suppress complaints, and investigations, and to criminally manipulated the Criminal and Civil Courts systems to maintain the cover up. When District Attorneys were caught red handed, with too much public evidence to bury, the DA's office conspired to quietly terminate the criminal DA's, and abuse California State Personnel Privacy laws to suppress complaints and investigations, and the FBI did nothing.
As Previously Reported By GTI News:
The organized crime cover up conspiracy, supported by the FBI, was to protect the ongoing First Responder Union's Election Fraud Conspiracy, and other on going criminal operations, like the cover up of the wide spread police and DA evidence tampering in criminal arrest and prosecution over a period of at least ten years . The exposure of which would have had dramatic impacts on the First Responder Unions ability to run current, and future election fraud operations. Clear political goals, achieved through violent criminal conduct. Innocent people falsely prosecuted and imprisoned with the most violent people in our society, is as "Violent" as it gets, short of dying, like the innocent people in the Boston Marathon Bomb Attack.
INTIMIDATION & FRIGHTENING OF CITIZENS & WITNESSES IN DOMESTIC TERRORISM & RACKETEERING
The intimidation, and frightening of people, in the on going San Diego County Public Corruption Domestic Terrorism is not limited to average citizens witnesses, to the corruption. Most honest law enforcement officers, and DA personnel, that provide information on the corruption, to this reporter, do not want to be identified for fear of retaliation.
The most recent example of retaliation, intimidation, and frightening of citizen witnesses, through threats, and fear of false arrest, and prosecutions, surfaced less than one month ago. The citizen this time was an Oceanside Police Officer named Gilbert Garcia, that blew the whistle on the Chief Frank McCoy Evidence Tampering Conspiracy. A Senior Police Officer evidence tampering conspiracy, and it's cover up, that was activated in August of 2009 in part to protect the on going FIRST RESPONDER Election Fraud Conspiracy, as well as other Police and District Attorney evidence tampering criminal operations.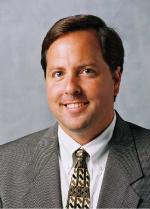 In late 2011, the former police Officer Garcia, and his attorney Daniel Gilleon, were threatened, in writing, by the Oceanside City Attorney's office, with criminal arrest and prosecution, if they publicly released audio recording evidence of multiple Senior Police Officers conspiring to destroy evidence in the criminal investigation of other Supervising Oceanside Police Officers. The Oceanside City Attorney's Office conspired to obstruct justice, threatening police corruption witnesses. A senior Police evidence tampering conspiracy the FBI had know about for more than a year, and the FBI did nothing.
As Previously Reported By GTI News:
It is not the first time that the City Attorney, City elected officials, Oceanside Police Officers, DA's, State officials, and even the FBI have threatened citizens and witnesses, including this reporter, to protect the on going Public Corruption Domestic Terrorism.
As Previously Reported By GTI News:
The court record letter evidence, and complaints ammended for racketeering charges were once again, hand delivered to FBI Agents Bedell and Masters at the Carlsbad, CA. FBI office. The evidence delivery and complaint process was recored on digital audio to document the filings, as on all previous contacts over a three year period. FBI agents lied about ongoing investigations as a means of deflecting complaints, in the hope they would disappear with time. There had been no evidence of arrest, no prosecutions, and no evidence of any investigations on any of the extensive public corruption.
The FBI, it's agents, and the California Attorney General knew everything about the corruption & Domestic Terroirsm, and who was involved. The same unions directly financing the Police and Firefighter election fraud conspiracy in Oceanside, CA., were also directly financing the election campaigns of Democrat AG Jerry Brown's run for Governor, and Democrat Kamala Harris's run to replace Jerry brown as Attorney General. At the same time both were protecting the election fraud and massive evidence tampering from investigations. All public agencies looked the other way, because all of the criminals were wearing badges, and tens of millions of dollars was flowing from the same unions, to the election campaigns.
WHO KNEW AND OBSTRUCTED JUSTICE
| FBI SAN DIEGO | FBI WASHINGTON D.C. | CA. ATTORNEY GENERAL |
| --- | --- | --- |
| AGENT AGUIRRE | NAME REFUSED (4) | SAAG GARY SCHONS |
| SUPERVISING AGENT SCOTT GICKING | SENIOR AGENT PATRICK BOHNER | AG JERRY BROWN / NOW GOVERNOR |
| AGENT BEDEL | AGENT DAN EVANS | SAAG JULIE GARLAND |
| AGENT KEITH SLOTTER | AGENT DEBORA EVANS | AG KAMALA HARRIS |
| AGENT DARRELL FOXWORTH | | NICK PACILIO - PRESS SEC. |
| AGENT JAMES DUCSAKOLOSKI | | RACHEL (LAST NAME REFUSED |
| AGENT KELLY | | |
| AGENT ANDREW MASTERS | | |
THE CITIZEN VICTIMS OF DOMESTIC TERRORISM
More than 170,000 Oceanside citizens were criminally defrauded of million of dollars, in an election fraud conspiracy planned, executed, and protected by the Police Officers and Firefighter that had been well paid, to protect and serve the citizen. A few of the innocent victims, that had been prosecuted and jailed, have been quietly set free, while the public agencies abuse the civil litigation system, to cover up the corruption, and quietly make settlement payoffs with tax dollars. However, the cover up is so extensive, and so well protected, we will never know everything, and the cover up conspiracy is continuing and expanding today, as this reporter writes this article.
GTI News does not know how many innocent people went to prison to protect the First Responder election fraud, and at least ten years of police and DA evidence tampering in criminal arrest and prosecutions. Or, how many innocent citizens are still in prison, as a direct result of the coordinated cover up.
FBI TWO FACED TERRORISM INVESTIGATIONS
The massive and immediate response of the FBI to the Boston bomb attack on citizens, is very different, from the more than three years of FBI domestic terrorism cover up in San Diego County, and California. Public Corruption involving large numbers of police officers, district attorneys, and elected local, County, and State officials, including the California Governor Brown, and the Attorney General Harris. All of which directly or indirectly financially benefit from the Public Agency Domestic Terrorism and it's cover up.
FBI Supervising Agent Richard DesLauriers was quick to issue statements on the Boston Domestic Terrorism.
"Since Monday's bombing the FBI and it's law enforcement partners have been working around the clock, and are fully committed to investigating the matter to bring those responsible to justice"
Hundred, possibly thousands of good, honest law enforcement officers did work around the clock, and five days later both of the bombing suspect were either dead or in custody.
Unfortunately, all evidence shows that San Diego County peace officers do not operate on the same ethical, professional, and legal standards. Especially when the officers they work with, are the domestic terrorist. Even less can be said about the legal and ethical standards of the FBI regarding the cover up of massive Domestic Terrorism in California.
The only good side to the First Responder Domestic Terrorism in California, observed by this reporter, is the first responders didn't bombs, YET.
"OUT OF CONTROL FIRST RESPONDER & DISTRICT ATTORNEY PUBLIC CORRUPTION VICTIMIZES CITIZENS, AND THE COVER UP BREEDS DOMESTIC TERRORIST !!!"