NOVEMBER 2009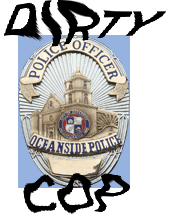 Oceanside Citizen Prosecuted On Phony Felony Charge To Protect Police and Firefighter Election Fraud
Oceanside citizen Eric Lido was the recipient of selective, and retaliatory felony criminal prosecution, because he opposed the election fraud by the Oceanside Police and Fire Departments in 2009. Mr. Lido is a citizen of Oceanside, who was frustrated with the election fraud public corruption from members of the Oceanside City Council, the Oceanside Police Department, and the Oceanside Fire Department election tampering.
Mr. Lido, like many other citizens, out of sheer desperation wanted to do something about the election fraud public corruption. All citizen oral and written complaints were being suppressed by the OPD and the City Council. In the later part of 2009 Lido started sealing election signs, posted in publi areas, that supported the police and fire departments recall election of Council Member Kern. Police and Fire supporters were also stealing signs that opposed the recall of Council Member Kern, however, none of the police supporters were ever found or arrested, for some reason, or another.
However, Mr. Lido, a non-union supporter got caught by Oceanside Police. Mr Lido was originally arrested on a misdemeanor theft charge. After he was booked in jail, the misdemeanor theft charge was upgraded by the District Attorney's Office to "Felony Receiving Stolen Property". According to the Oceanside Police, the charges were upgraded as they reportedly found several additional Police and Fire election support signs, in the back of Mr. Lido's truck. A circumstance which has never been considered to be receiving stolen property.
During exactly the same time period, this reporter and others, as citizens of Oceanside, were filing public complaints, in front of the City Council and Chief Of Police Frank McCoy. The complaints involved the falsification of campaign finance record, and other public records, by supporters of the Police and Firefighters recall on Kern. Former Council Member Sherri Mackin, her campaign manager Carolyn Kramer, Christine Gow, Jim Sullivan, and others, were actively involved in conspiring to falsify campaign finance records, in multiple committees, to hide the fraudulent money trails from the Police and Fire Department unions, into the Kern recall campaign. Campaign literature was also being falsified to support the recall, while the campaign finance records were falsified to support the literature. A coordinated criminal conspiracy by any definition.
All complaints, of criminal conduct by supporters of the Police, Fire, and council members, were suppressed, with no investigations, or prosecutions. Multiple Police and Fire supporters were involved in a felony conspiracy to tamper with and election, and they were given a free get out of jail pass from the Oceanside Police, and the City Council, headed up by retired OPD cop Mayor Jim Wood. The Oceanside Police and the Oceanside City Council were obstructing justice, and protecting all of their financial and political supporters from investigation, arrest, and prosecution.
Citizens like Mr. Lido, that did not support the police election fraud, received very special Police and District Attorney attention. Misdemeanor's were upgraded to felonies to send a message to Kern supporters to keep quiet, and stay away from police and fire union campaign signs, and banners.
Criminal Police supporters are protected from all arrest and prosecutions, and Mr. Lido gets a felony record for life. Civil Rights violations that were reported to the San Diego DA's, the California Attorney General's Office, and even the FBI, with no response.
GTI NEWS IS INVESTIGATING
By Woodrow L. Higdon - woody@gtinewsphoto.com