MARCH 2010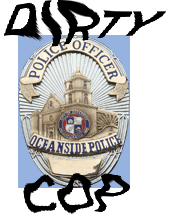 OCEANSIDE SGT. MARCO MENDOZA, OFFICER PAUL, & OFFICER FLYNN
Criminal & Misconduct Complaints
Sgt. Mendoza, Officer David Paul, and Officer Laura Flynn criminally conspired with with Mayor Jim Wood (Retired OPD Officer) to assault and kidnap citizens from the Oceanside City Council Chambers, to silence public complaints about Police and City Council Criminal Corruption. Any citizen that regularly complained about police and council corruption was targeted.
In February 2010 the Oceanside Police and Fire Departments were in the middle of a criminal conspiracy to tamper with an election to improve their pay and benefits. The initial discovery in April of 2009 of massive police and DA evidence tampering, by a North County Times reporter, caused panic in the Oceanside Police Department, and the District Attorney's Office. The evidence tampering had been going on for at least eight years, it involved multiple police officers and District Attorneys, and any criminal investigation would jeopardize the police and fire departments ongoing election fraud conspiracy, and expose at least eight years of corrupted DA criminal prosecutions. This reporter's investigation identified other Oceanside Officers like Jon Domonique, and their victims which were falsely arrested and prosecution.
This reporter's undercover system of using the public speaking sessions to place documentation into the public record was making the corrupt City Council Members, and the Oceanside Police and Firefighters very nervous. That nervous protection reaction had already resulted in extensive anonymous threats, Police and DA coercion, and threats of litigation from Deputy Mayor Esther Sanchez, if this reporter did not stop exposing public corruption.
In February 2010, as this reporter placed more and more evidence into the public record, and started connecting Mayor Jim Wood to the evidence tampering corruption, an assault and intimidation conspiracy was activated by Mayor Jim Wood and the Oceanside Police Department. Mayor Wood ordered Sgt. Mendoza, Officer Paul, and Officer Flynn to seize and remove this reporter from the City Council chambers, in the hope it would scare this reporter into silence.
The result was a written and publicly filed felony criminal complaint against Mayor Wood and the three Oceanside Police Officers. Misconduct complaints were also filed against all three active duty police officers. The filing process required the threat of immediately arresting any officer that refused to take the complaints. The complaint process was recorded on audio tape to verify submission. The complaints were also filed with the San Diego County District Attorney's Office.
As with all previous criminal complaints involving police, firefighters, or the political officials they control, there was no follow up, or evidence of any investigation by the Oceanside Police, the San Diego County District Attorney's Office, or any other public agency. All complaints were suppressed and buried to protect other ongoing public criminal corruption as previously reported by GTI News Photo.