JULY 20, 2013

OCEANSIDE'S "CORRUPT POLITICIAN" ESTHER SANCHEZ CAMPAIGN FINANCE THROUGH PUBLIC CORRUPTION, SELLING VOTES AGAIN !
CORRUPTION ALIVE AND WELL IN 2013, WITH UNION TRIBUNE AMNESIA
Oceanside Council Member (CM), and Coastal Commission Member (CCM), Esther Sanchez is selling votes again. This time from her Coastal Commission Office. A continuing Public Corruption, and once again directly connected to her re-election campaign financing. Local newspaper, The San Diego Union Tribune published its story, "CONTRIBUTION TO COASTAL PANEL'S SANCHEZ EXAMINED". Criminal violations of the law directly connected to campaign finance are nothing new to CM & CCM Esther Sanchez, however, coverage by the San Diego Union Tribune, or any other news organization is new, and most likely a reflection of the new UT ownership under Conservative Hotel magnate Douglas Manchester.
The UT story dated July 18, 2013, by Watchdog reporter Aaron Burgin reported on a long term legal battle in San Diego, Ca. over the publics use, of a public beach area, know as the Children's Pool in the City of La Jolla. A public beach area with a unique location, and special improvements to protect children, that was donated to the city to protect young children from adverse ocean elements during their learning years. In recent years Seals became common on the beach, and local "self described animal lovers" wanted the public access, including children, eliminated in favor of the Seals, by whatever means necessary. Many years of civil litigation in the Courts produced no clear winner, and frustrations among the waring groups were extreme. The only public agency, with almost limitless power on the coast, and the authority to close the beach permanently is the California Coastal Commission (CCC), which brings us to Coastal Commission Member (CCM), and corrupt Oceanside Council Member (CM) Esther Sanchez. Sanchez was up for re-election in San Clemente, CA. in 2012, and as usual Sanchez wanted as much campaign finance money, as she could get her hands on.
The UT Watchdog reporter Aaron Burgin, reported that a long term local leading supporter of the beach closure, Dr. Jane Reldan, had donated $1000 to Sanchez's re-election campaign, shortly after Coastal Commission Member Sanchez's "YES" vote, to close the beach. The $1000 donation, and the acceptance of the donation by Sanchez was in violation of state laws on campaign finance donations, to sitting Coastal Commission Members, in multiple ways. Reldan, and the Children's Pool is in La Jolla, CA., which is about 30 miles away from San Clemente, CA., where Sanchez works and runs for re-election.
The UT story by Aaron Burgin is a good story of public corruption, about corrupt official Esther Sanchez selling votes, however, it is four years past due, and more than $5 million dollars short, on protecting the public from Sanchez. Sanchez has a long history of public corruption involving conspiracy, and obstruction of justice, with large numbers of first responder co-conspirator unions in Oceanside, California. Reporter Burgin, the Union Tribune, the Associated Press, and other news groups were instrumental in covering up years of public corruption in Oceanside, directly involving Esther Sanchez. Public Corruption involving her PAC campaign financing, first responder election fraud, and wide spread police and District Attorney Evidence Tampering in Oceanside, and through out San Diego County. Public corruption, and its cover up that continues to this date with the full knowledge of the Union Tribune.
As Reported By GTI News:
The only real difference, between this current public corruption being reported by the San Diego Union Tribune, is this vote selling did not have direct connections to Police and Firefighter Union election fraud, Police and District Attorney evidence tampering, and other public corruption organized crime operations. It appears the UT policy is to go after dirty politicians, so long as they avoid reporting on First Responder Public Unions.
Mayor Jim Wood, CM Esther Sanchez, CM Jerome Kern, CM Jack Feller, CM Rocky Chavez, Chief Frank McCoy, and the OPD
THE HISTORY
Reporter Burgin, and many other reporters, were directly assigned to cover the Oceanside City Council, and it's council meetings, for years. From 2009 through 2011 this reporter had told the UT reporters including Burgin, and other news groups, that Esther Sanchez and other council members, were allowing their re-election PAC's to be used by the Oceanside Firefighters & Police Unions to cover up payments to news media groups, for the publication and distribution of falsified campaign election literature, in the Oceanside First Responder election fraud conspiracy. Falsified campaign literature specifically designed to manipulate citizen votes, based on false information, and hidden with falsified campaign finance records. An election fraud verified by the state FPPC, and a First Responder, District Attorney cover up conspiracy, to protect wide spread obstruction of justice by the Oceanside City Council. Public Corruption involving Police and District Attorney Evidence tampering. The cover up payoffs to Sanchez, Mayor Wood, and others were full re-election campaign financing and endorsements, from the same Police and Firefighter Unions running the election fraud, and full protection for all co-conspirators, from investigations, arrest, and prosecution, on all public corruption crimes.
The Oceanside First Responder Election Fraud conspiracy was a complete success, and defrauded more than 170,000 citizens, of more than $5 Million dollars, in expanded first responder pay and benefits. The CM Sanchez, and City Council cover up proceeded full speed while cities like Fort Stockton, & San Bernardino, California went bankrupt. That public corruption conspiracy has continued to this date as Detroit, Michigan declares bankruptcy, All as a direct result of the public unions, and their first responders public corruption in elections.
CM Sanchez's public corruption cover up conspiracy, with the Oceanside City Council, and their First Responder Unions, was not limited to the election fraud. The election fraud success depended on the apparent clean public image of the Oceanside Police Officers and Firefighters. All public corruption involving the first responders from 2008 forward, was fully protected by Sanchez, Mayor Wood, the City Council, and the news media, including the San Diego Union Tribune, through out the election manipulations. All of which included wide spread manipulation, and falsification of campaign finance records. No one was ever investigated, arrested, prosecuted, or reported on by the news media.
As Reported By GTI News:

Officer Damon Smith Evidence Tampering And Its Cover Up

DDA Laura Gunn Evidence Obstruction Of Justice In The Officer Damon Smith Evidence Tampering, And Its Cover Up

Officer Jon Domonique & DDA Daniel Rodriguez Evidence Tampering, And Its Cover Up

Police Sgt. David Larson, Chief Frank McCoy, Etal, Conspiracy To Destroy Evidence, And Cover Up Police Criminal Conduct

District Attorney Dumanis, DDA Laura Gunn Conspiracy To Obstruct Justice In The Cynthia Sommer Murder Prosecution

Etc., Etc., Etc.
CM Sanchez's motives for public corruption cover up in 2009, also involved her original appointment to the California Coastal Commission. The Governors appointment was pending, during Sanchez's direct involvement in the cover up of all of the above reported public corruption. The failure of the news media, the UT, and reporter Burgin to report on the First Responder Union Public corruption involving Sanchez, provided the perfect cover for Sanchez's corruption. A protection, which included the wide spread cover up of the falsification of campaign finance records, and the flow of illegal money through Sanchez's PAC, supporting the election fraud, with Sanchez's direct knowledge. All documented in public records, just like the current illegal cash donations to Sanchez, from Dr. Reldan. Campaign finance donations to buy Sanchez's supporting vote on the Coastal Commission
SANCHEZ PUBLIC CORRUPTION COVER UP EXPANDS WITH TIME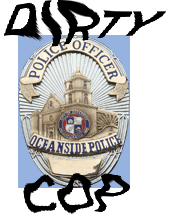 Sanchez's public corruption went far beyond campaign finance law violations. The continuing campaign finance was the motive for other corruption and its cover up. The 2010 high level Oceanside Police conspiracy to obstruct justice involving Chief Frank McCoy was initially buried by the Police, and the City Council, including Esther Sanchez, during the on going first responder election fraud conspiracy in 2009 and 2010. Three times the cover up surfaced, and was re-buried by blocking all public complaints, and criminal investigations. The criminal cover up only exploded when whistle blower Police Officer Gilbert Garcia refused to go along with the obstruction of justice conspiracy, and refused to destroy the audio evidence of the conspiracy. The Police and City Council, including Sanchez, continued to obstruct all criminal complaints and investigations, as they conspired with the City Attorney's Office to one again obstruct justice, and suppress all complaints. A suppression of complaints, with written threats of retaliation, through criminal prosecutions, to bury evidence, silence witnesses and their attorneys, which the law defines as racketeering, and organized crime.
As Reported By GTI News:
Council Member, Coastal Commission Member Ester Sanchez has a long history of campaign finance public corruption, and the use of her elected position to cover up the public corruption for personal, political, and financial benefit. The unfortunate part is, that as bad as the current campaign finance corruption of selling coastal commission votes is, it does not hold a candle to the extensive conspiracy to cover up first responder election fraud, evidence tampering, and the false imprisonment of innocent citizens, to protect the corruption, and Esther Sanchez's political career.
All of which was criminally covered up by the news media for money, a lot of money.